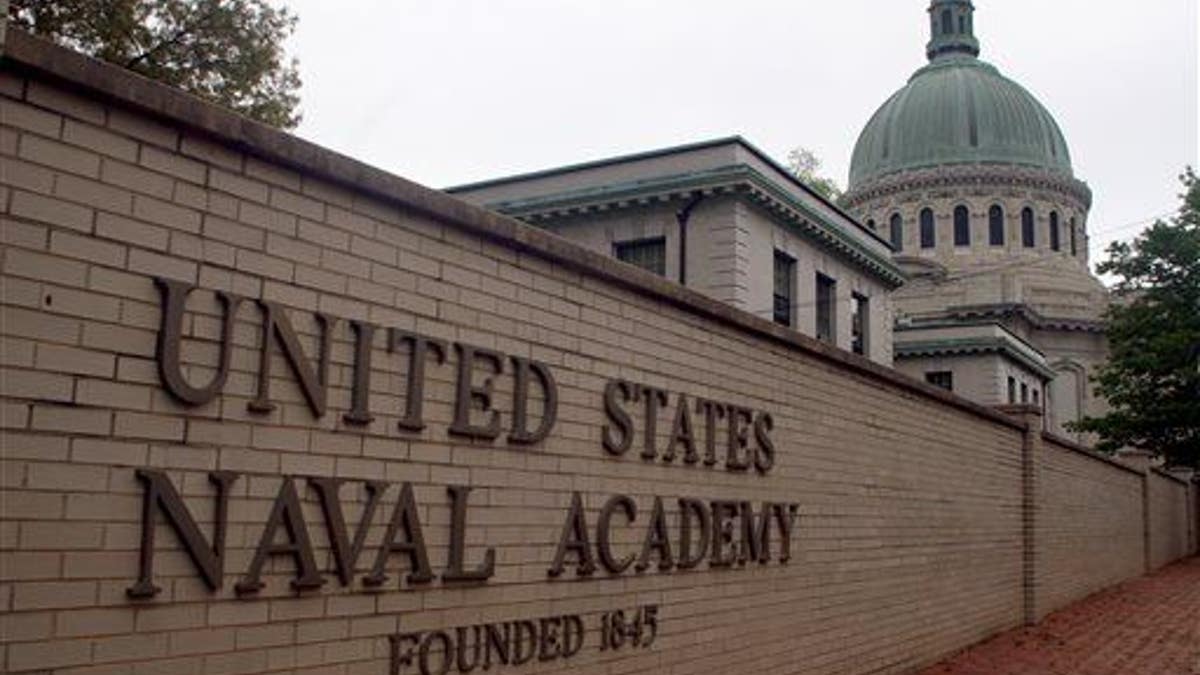 Plebes at the Naval Academy officially became fourth-class midshipmen Monday after they climbed to the top of the Herndon Monument.
The feat was accomplished after the academy's approximately 1,000-strong freshman class – known as plebes – gathered to help reach the top of the 21-foot tall monument at the Academy in Annapolis, MD.
Once on top, the group had to remove a plebe hat (known as a "dixie cup") and swap it with a midshipman's hat.
The challenge frequently takes one to three hours to complete. On Monday, it took about two-and-a-half hours.
ARMED FORCES: MENTORING PROGRAM MATCHES VETERANS WITH PRIVATE-SECTOR BIGWIGS
The race to the top is a slippery one – the Academy's upperclassmen grease the monument with 200 pounds of lard prior to the climb. In 2014 the grease was left off due to safety concerns but the class finished the climb in less than three minutes so it was reapplied the following year.
The first plebe to climb the monument did so in 1940 and it became a tradition in the 1950s following the fastest greased time so far – 44 minutes. The longest climb took four hours, according to WJLA.
The Herndon Climb plebes are also required to take off their shoes prior to climbing.
The midshipman who gets the hat to the top of the monument will be the first in his class to become an admiral, according to the legend surrounding the event.
The monument is named after Commander William Lewis Herndon.
In command of a ship home-bound with gold-seekers from California in the 1800's, the ship encountered a hurricane off the coast of North Carolina. Herndon went down with the ship following an effort to save the vessel and those on board. The monument was erected in his honor following his death, according to FOX 5.