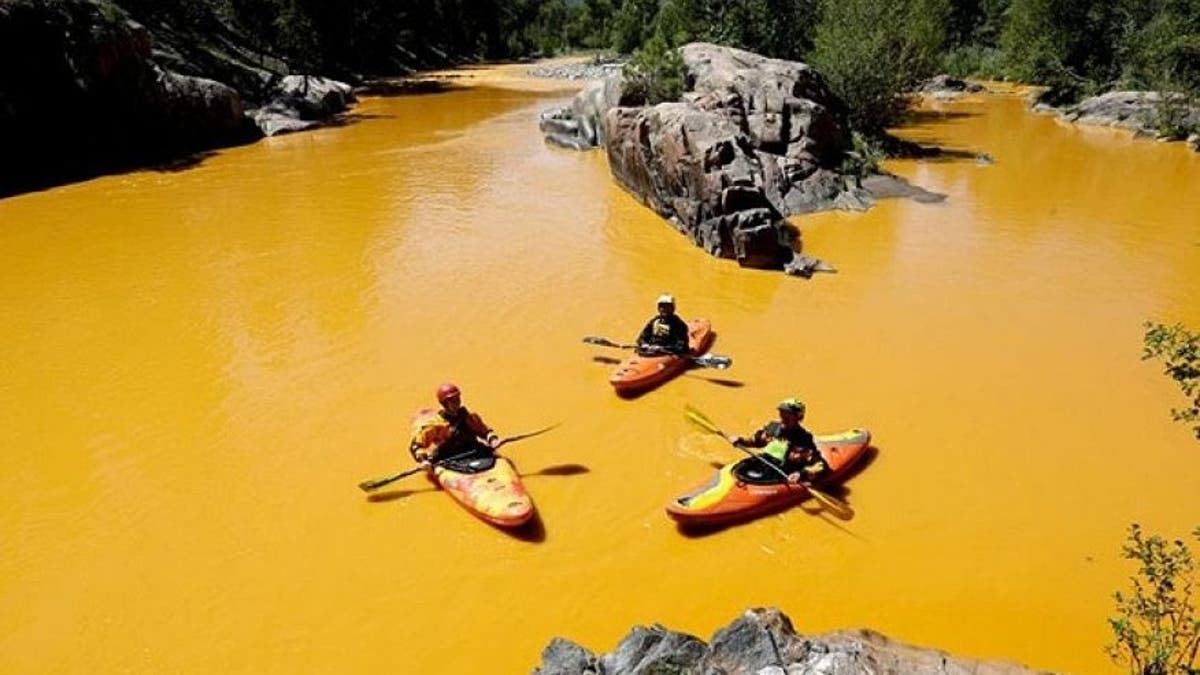 Navajo Nation officials say they are outraged the Environmental Protection Agency is refusing to pay millions of dollars in claims filed against it following the devastating Colorado Gold Mine spill.
The federal agency has accepted responsibility for the August 2015 disaster, which devastated farm and grazing lands in southern Colorado and northwest New Mexico. But it announced late last week that it was not legally able to pay claims submitted by farmers and livestock owners.
"The Navajo Nation call upon our Congressional leaders from the states of Utah, New Mexico, and Arizona to do what is right for our people by demanding that the U.S. EPA reconsider its decision and that the U.S. EPA provide full compensation to the many Navajo people who sustained extensive losses due to the spill that was caused by the agency," Navajo Nation speaker Lorenzo Bates said last Saturday.
"When the law allows the government to hide from those whom it has harmed, the law must change," Sen. Cory Gardner (R-CO) said
in a statement.
In a dramatic speech on the banks of the Animas River last August, Navajo Nation President Russell Begaye announced that the tribe was filing a $159 million lawsuit for damages and $3.2 million to cover expenses that had not been paid.
The suit was in response to what the tribe said was an inadequate gesture by the EPA to reimburse them $602,000.
Last Friday, the EPA said it was legally prohibited from paying the claims because of sovereign immunity, which prohibits most lawsuits against the government. The agency said the only legal option left is to either refile the claims in federal court or have Congress authorize the payments.
This announcement added insult to injury for Lenora Williams of Upper Fruitland, N.M., who saw 14 acres of her family farm dry up after the spill.
"They are weaseling out of a big mess they made," Williams said. "The EPA knew they did this."
The toxic spill had a profound economic and emotional impact on Williams and her family, who have been farming on the land for at least five generations.
"We [planted] Indian corn, melons, and veggies and didn't get to see them grow," she said, her voice cracking. "We watched with great heartache and pain as our crops dried up."
Williams said her family farm helps feed relatives and friends further out on the reservation who do not have access to water or fresh fruit and vegetables.
Despite reassurances from the EPA that the water was safe for plant irrigation, many farmers – including Williams – were not taking any chances. They refused to shell out money for seeds, fertilizer and equipment just to see all it contaminated by tainted water.
"We just had to let it go this year," Williams said.
A tribal official said he estimates that about 70 percent of the farmers in the area did not plant crops this year and that was having a significant impact on the local economy. An estimated 2,000 Navajo farmers and ranchers were impacted by the Gold King Mine spill.
Stanley Wauneka, president of the nearby San Juan chapter, said farmers just stopped irrigating their fields and now they find themselves in dire straits.
"It's very upsetting and disappointing, you can't rely on the EPA and government," Wauneka said.
The disaster occurred on Aug. 5, 2015 while EPA crews were working on the abandoned mine when a "blow out" occurred, spilling three million gallons of toxic orange water that included heavy metals such as aluminum, arsenic, and iron.
On Aug. 8, 2015, The Navajo Nation Commission on Emergency Management declared a state of emergency. Colorado and New Mexico also declared a state of emergency three days later.
Navajo Nation residents in the area were told to stop using the water on Aug. 8 and the ban wasn't lifted until Aug. 21.
By December 2016, the Navajo Nation had been reimbursed $1,067,794 by the federal government.
In the EPA's statement on January 14, agency officials said there were no long-term effects on the water quality of the Animas and nearby San Juan Rivers.