Nation's second-largest school district plans to expand dinner program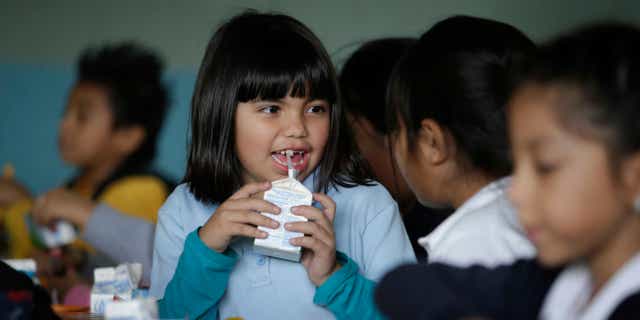 The nation's second-largest school district is eyeing a move to offer dinner to students at every school.
Students at Kingsley Elementary in Los Angeles eat breakfast, lunch provided for them by the school as well as dinner. The trend around the nation is continuing as nearly 1 million students are served dinner or an after-school snack.
"When kids are hungry, they don't pay attention," said Bennett Kayser, a member of the Los Angeles Unified School District board, which was announcing the expansion Thursday. "This is something that should have started years ago."
Washington and 13 other states began offering dunner as part of a pilot program expanded to all states after the Healthy, Hunger-Free Kids Act was passed in 2010. Schools where at least half the students are low-income and qualify for free or reduced-price lunch are reimbursed for each supper by the U.S. Department of Agriculture..
About 10 million suppers were served to students in the 2014 fiscal year.
Proponents say that since many students stay on campus until the early evening hours, it makes sense to provide an additional meal. In the case of the neediest students, they might not get anything to eat after class other than what is offered at school.
The LAUSD serves supper to 75,000 students and is planning to expand the program to about 150,000 over the next two years. School officials expect to generate $16.6 million in revenue, which would go to expanding the program even further.
Other large, urban districts with dinner programs include Philadelphia and District of Columbia public schools. Wayne Grasela, senior vice president for food services, said the School District of Philadelphia now serves 4,500 dinners each day.
At Kingsley Elementary School, several students said the roasted sunflower seeds, cheese sticks and, depending on the day, sandwiches, salads and chicken they are served function more like a snack than a meal. Some eat another meal at home.
But for others, it's one of the few things they eat after class. Ten-year-old Evelyn Ruballos said she usually only eats crackers when she gets home.
"And then I just go to sleep," she said.
The Associated Press contributed to this report