Muslim man files lawsuit against Oklahoma gun range for refusing him service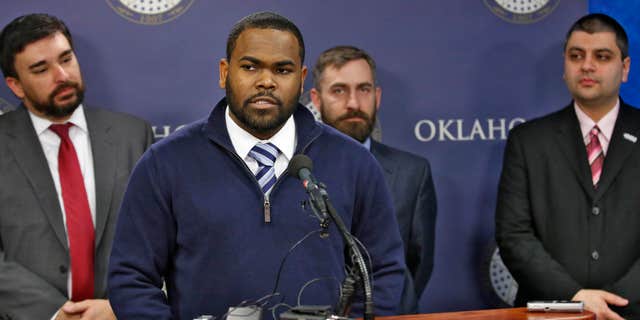 A Muslim man, who is also a U.S. Army reservist, filed a lawsuit Wednesday against the owners of an Oklahoma gun range after they allegedly told him to leave when he identified himself as a Muslim.
Raja'ee Fatihah's lawsuit was filed in U.S. District Court in Muskogee against the owners of Save Yourself Survival and Tactical Gun Range in the town of Oktaha.
A sign posted on the business declared the range a "Muslim-free" establishment, and is similar to signs that have been placed at businesses in Florida, Arkansas, Kentucky and New York, said Brady Henderson, legal director for the Oklahoma chapter of the American Civil Liberties Union, which filed the suit.
"Whether the sign in question says 'no Muslims' or whether it says 'no coloreds' or whether it says 'no women' or 'no Christians' or 'no Buddhists' ... it is just as un-American and fundamentally it is just as wrong," Henderson said.
Fatihah is a board member with the Muslim advocacy group Council on American-Islamic Relations' Oklahoma chapter. He said he went to the gun range after learning about the signage. He said the owners of the gun range were warm and welcoming until he told them he was a Muslim.
"At that point, they started treating me with suspicion," Fatihah said.
The lawsuit also alleges that the owners asked Fatihah if he was there to murder them, The Oklahoman reported.
Robert Muise, with the American Freedom Law Center, is representing Chad and Nicole Neal – the owners of the gun range – in the case. Muise said Fatihah was denied service because he was being belligerent, not because of his religion. Muise also said the sign declaring the shop a "Muslim-free" business is protected free speech. Fatihah denies he acted belligerently.
"The only thing the law prohibits is if somebody denies services strictly on the basis of religion, and that didn't happen here," Muise said.
Muise previously represented a Florida gun shop owner in a similar case.
Claims of discrimination by business owners against Muslims have been reported in numerous states, and formal complaints have been filed with the U.S. Department of Justice regarding incidents in Arkansas, Florida and New Hampshire, said CAIR's national director, Ibrahim Hooper.
"It's one of those issues that's tied to the overall rise of anti-Muslim bigotry in our society," Hooper said.
A similar lawsuit was filed by CAIR last year against a gun shop in Florida, but that case was dismissed by a federal judge who determined CAIR could not prove its members were harmed by the store's Muslim-free policy, Henderson said.
The Associated Press contributed to this report.