Morning brief: London van attack being investigated as terrorism
NEWYou can now listen to Fox News articles!
POLICE TREATING LONDON VAN INCIDENT AS TERROR ATTACK
Authorities in London were treating an incident that left one person dead and 10 others injured outside a mosque Monday as a terror attack. Metropolitan police said a 48-year-old white male was arrested in the collision with pedestrians outside the Muslim Welfare House. The man was taken to a local hospital for a mental health evaluation. The incident occurred outside the mosque shortly after midnight after Ramadan prayers. Police said all of the injured were members of the Muslim community. Muslim leaders decried the collision as a hate crime and asked the public to stay calm. Police said eight of the injured were taken to three area hospitals and two suffered minor injuries and were treated at the scene.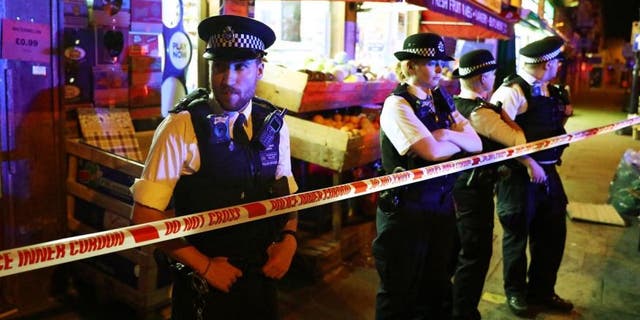 COPS: DRIVER OF VAN THAT HIT PEDESTRIANS IS 48-YEAR-OLD MAN
AUTHORITIES SEARCH FOR CLUES IN LONDON VAN ATTACK
AT LEAST ONE DEAD AFTER VAN STRIKES CROWD IN LONDON
WITNESSES DESCRIBE SCENE OF LONDON VAN ATTACK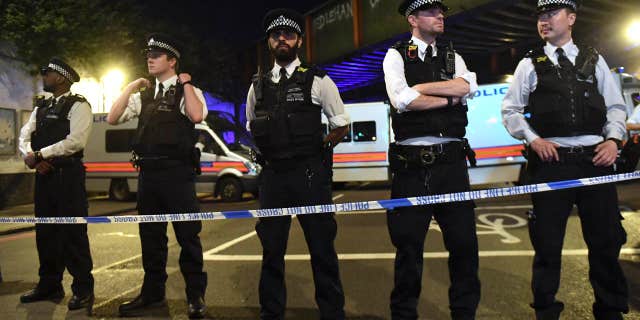 Witnesses outside a London mosque, where a van mowed down worshippers killing one and injuring 10 others, described the scene to reporters early Monday. Mohammed Abdullah, a delivery driver, was on a bike about three cars behind the incident in Finsbury Park when he saw the white van make a sharp left turn. "I think he done it on purpose. I was on a ped. He was about three cars in front of me. He came in a bus lane and took a sharp left," Abdullah told Sky News. "He went on top of the people. He actually ran them over. It was a white van."
WITNESS DESCRIBES DEADLY VEHICLE IN ATTACK
DR. JASSER ON TIMING OF COLLISION IN LONDON
US NAVY IDENTIFIES SAILORS PULLED FROM USS FIZGERALD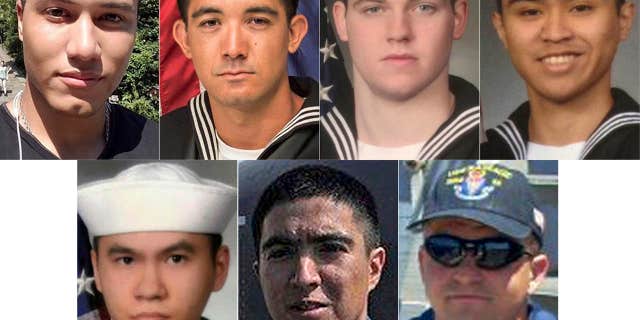 The U.S. Navy identified Sunday seven sailors who were lost aboard the USS Fitzgerald after a Japanese merchant vessel struck the warship miles off the Japanese coast. (CLICK HERE TO VIEW THE NAMES)
MOTHER: SON TRIED TO SAVE NAVY SHIPMATES AFTER COLLISION
US NAVY SHOOTS DOWN SYRIAN WARPLANE
A U.S. Navy fighter jet shot down a Syrian government warplane after it attacked Washington-backed fighters near ISIS' de facto capital of Raqqa, the U.S.-led coalition said Sunday. In a statement, the coalition headquarters in Iraq said that a F/A-18E Super Hornet shot down a Syrian Su-22 that had dropped bombs near positions held by the Syrian Democratic Forces (SDF). The statement said coalition aircraft had "conducted a show of force" to turn back an attack by Syrian leader Bashar al-Assad's forces on the SDF in the town of Ja'Din, south of Tabqah.
IRAN LAUNCHES STRIKES AGAINST ISIS IN SYRIA IN RESPONSE TO TEHRAN TERROR ATTACK
TRUMP LAWYER SEKULOW: PRESIDENT HAS NO KNOWLEDGE OF BEING INVESTIGATED
Jay Sekulow, a member of President Trump's legal team, said Sunday he has no knowledge of the president being the target of a federal probe, following Trump's recent statement suggesting that he is being investigated. "The president has not been notified by anyone that he is under investigation," Sekulow told "Fox News Sunday," in a heated exchange with host Chris Wallace about whether Trump could be under investigation without knowing.
SEKULOW ON REPORTS TRUMP INVESTIGATION WIDENED
MEGYN KELLY FACES OFF WITH ALEX JONES
COMING UP ON FNC
11:30 a.m. ET: President Trump and the first lady welcome Panamanian President Juan Carlos Varela and his wife to the White House. Watch on FoxNews.com.
11:30 a.m. ET: Gen. Joseph Dunford, the Chairman of the Joint Chiefs of Staff, speaks at a National Press Club Luncheon. Watch on FoxNews.com.
FOX BUSINESS COVERAGE
Amazon, Apple CEOs among Trump's tech guests for White House meeting Monday (Click here for more)
Wall Street week ahead: Tech to see bump in growth weighting in Russell rejig (Click here for more)
COMING UP ON FBN
7:30 a.m. ET: Kellyanne Conway, adviser to the president, joins "Mornings with Maria."