Mollie Tibbetts likely went off in car with someone she knew, says FBI ex-profiler
The night Iowa student Mollie Tibbetts went missing, she likely left her boyfriend's home with someone she knew.
That's one leading theory posited by a former FBI profiler, who reviewed the previous reporting on the case at the request of Fox News.
"To have a complete stranger to come into a small town like this, someone would have come forward and mentioned that they've seen this person," Mary Ellen O'Toole, a former FBI profiler and director of the forensic sciences program at George Mason University, told Fox News.
"She was likely not kidnapped. She either got into the car of someone she knew or had a relationship with, or it was someone who had a non-threatening demeanor."
She continued, "If she was just kidnapped, it would be a hard feat to pull off."
HEMMERTIME PODCAST: LATEST UPDATES ON TIBBETTS CASE FROM FOX NEWS' BILL HEMMER
O'Toole said it was also unlikely that Tibbetts ran away from home.
"She doesn't sound like the type of girl who would run away and start a new life," the former FBI agent said. "If she is as close to her mom and dad and others, she wouldn't have just run off. It's just not seen as something that happens."
"To have a complete stranger to come into a small town like this, someone would have come forward and mentioned that they've seen this person."
Tibbetts, 20, went missing July 18 from Brooklyn, Iowa, about 70 miles east of Des Moines. She was last seen jogging about 7:30 p.m. in a place where, as one community watch organizer said, "not a lot of big things happen."
Officers from the FBI and from state and local law enforcement agencies have joined in efforts to locate Tibbetts. A reward fund for the missing University of Iowa sophomore is now at more than $300,000, and that sum is likely to continue climbing, a spokesman for Crime Stoppers of Central Iowa said this week.
Investigators in Iowa canceled two press conferences without explanation this week, saying only that the next one would take place on Monday.
"It is unusual that they canceled," O'Toole said. "I would suspect that something could be developing and they want to put their complete focus on that. They could be serving warrants or conducting more interviews. Holding press conferences could delay an investigation. It can get in the way."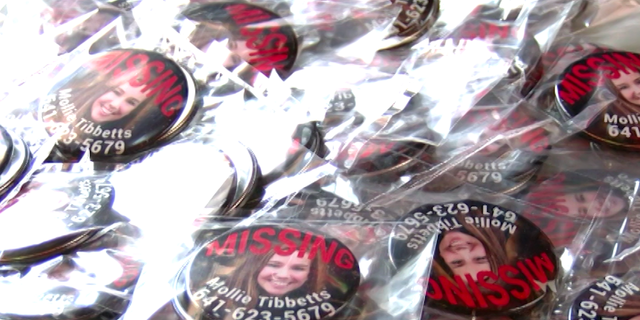 Tibbetts was staying at her boyfriend's home at the time of her disappearance. She was there to watch his dogs because he was working a construction job about 100 miles northeast in Dubuque.
The morning after she disappeared, Tibbetts' family reported her missing when she failed to show up for her job at a day care center in a nearby town.
Mollie's father, Rob, told Fox News in an exclusive interview earlier this week that he also believes his daughter is with someone she knows.
"It's total speculation on my part, but I think Mollie is with someone that she knows, that is in over their head," he said. "That there was some kind of misunderstanding about the nature of their relationship and at this point, they don't know how to get out from under this."
Tibbetts said he believes his daughter and the other person simply "don't know how to resolve this."
He urged whoever's with his daughter to "just simply call the authorities and put an end to this."
"Let Mollie come home and hold yourself accountable for what you've done so far, but don't escalate this to a point where you can't recover yourself," he said.