Missing Utah Mom's Kids in State Custody as Grandfather is Accused of Having Child Porn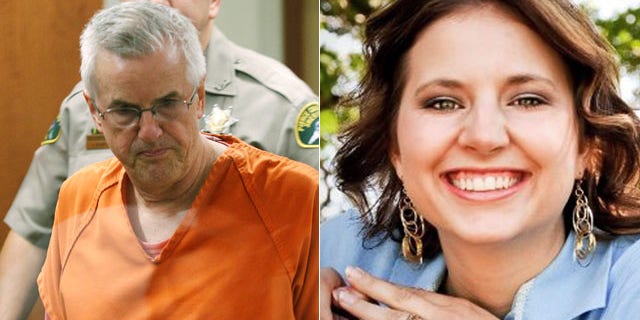 TACOMA, Wash. – For now, the two young sons of a missing Utah woman are living with strangers.
They are in state custody as the paternal grandfather they lived with in Washington state sits in jail, accused of possessing child pornography and secretly videotaping their mother, other women and naked neighbor girls.
Now, the family of the boys' mother, Susan Powell, who has been missing since 2009, is for the first time publicly accusing their father of being involved in her disappearance. On Friday, they asked, for the first time, to get immediate custody of the boys, ages 4 and 6.
"The time has come where we have to stop playing cat and mouse games: Josh Powell had something to do with the disappearance," said Steve Downing, the family's lawyer, at a custody hearing Friday.
In response, Josh Powell said: "Everything they said is patently false. I am a good father to my sons."
A judge will decide custody after the child welfare agency has time to consider where the boys should be placed.
The two sets of in-laws have been arguing publicly for months, both on sidewalks and in the courts, as investigators have gone from abandoned mines of central Nevada to the remote desert of western Utah looking for clues. Things got so heated last month that a judge ordered Josh Powell and Susan Powell's father to keep 500 feet apart.
All of it exploded Friday, a day after Steven Powell, 61, was arrested and accused of secretly videotaping Susan Powell, other women, and young girls taking baths and sitting on the toilet next door. Susan Powell has been clothed in all of the footage detectives have reviewed so far, but they had seen only 5 to 10 percent of the videos, prosecutor Mark Lindquist said.
Josh Powell and his sons have been living at Steven Powell's house in Puyallup, Wash.
Steven Powell pleaded not guilty at a hearing on Friday. Utah police said the arrest was unrelated to the missing person case. The judge set bail at $200,000 and ordered him not to have contact with the boys.
The charges also resulted in Steven Powell being terminated from his job with Washington state's Corrections Department where he had worked since 2006, agency spokesman Chad Lewis said Friday.
After the hearing, Denise Cox, Susan Powell's older sister, said she was worried that Steven Powell would easily post bail. She said her sister had been concerned when he made sexual advances. Cox said she believes both son and father were involved in the disappearance.
"I'm just hoping for the day that hopefully Josh will join him," she said.
Josh Powell has been the only named person of interest in the case, but police have not charged him with any crime.
"It's been a long wait and it gets harder every day," she said, as she cried in front of a throng of reporters and TV news cameras.
A Washington state judge issued a permanent injunction Friday barring Josh Powell and his father from further publishing journal pages Susan Powell wrote as a teenager. They claimed the entries depicted a troubled woman. Her family has been fighting their release, saying they were the personal writings of a young girl and had no bearing on her disappearance.
Washington prosecutors said Steven Powell is charged with child pornography possession and 14 felony counts of voyeurism.
They said Utah police investigating Susan Powell's disappearance found "thousands of images of females being videotaped without their knowledge, including Susan Powell," on tapes and disks at his home in an Aug. 25 search.
The videos were found in Steven Powell's bedroom. Prosecutors said the images were of women's buttocks and breasts and included minors. The images included shots of two girls who were as young as 8 and 10 years old at the time, authorities said. They determined that the girls lived near Steven Powell from June 2006 to August 2007.
At Powell's arraignment, prosecutor Grant Blinn said detectives are still going through the seized items, but so far have found more than 1,000 video files. He said it appeared he had been secretly videotaping girls or women for at least 10 years.
"It very clearly shows her concerns were just about Steven Powell," Susan Powell's father, Chuck Cox, said.
Before the hearing, Josh Powell sat at the back of the small courtroom. He was dressed casually and wore his wedding ring. Powell flipped through a thick stack of legal documents. When asked if he had anything to say about his father's arrest, he said, "No."
Josh Powell claims he took the couple's two sons -- then ages 4 and 2 -- on a midnight camping trip in the mountains west of Salt Lake City on Dec. 6, 2009, the night before she was reported missing.
Authorities wrapped up their 12-day search of the desert Friday about 30 miles from where Josh Powell said he went camping that night. At one point, they said they found a "shallow grave" after cadaver dogs alerted them to the spot. But they found no human remains. Charred wood chips discovered in the hole have been sent to a lab for testing.
The search of the Powells' home in Puyallup, Wash., last month came after police wrapped up a search for evidence in a network of abandoned mines outside Ely, Nev.
Around that time in August, Josh Powell and his father went on national television to discuss the case. They claimed Susan Powell was promiscuous, emotionally unstable and suicidal, a claim her family denies. Steven Powell said he had a flirtatious relationship with his daughter-in-law and believed they were in love. Susan Powell's father, denied the allegations, and said it was Steven Powell who initiated unwanted sexual advances.
For now, Susan Powell's family is worried about her sons. They have not been allowed to see them since mid-July.
"We're very concerned for the welfare of our grandchildren. We're doing everything we can," Chuck Cox said after the custody hearing.