Milwaukee Bucks' Sterling Brown sues police for excessive force during stun-gun arrest
The Milwaukee Bucks player who was pinned to the ground by police during a scuffle in January is now suing the city's police department, claiming unlawful arrest and excessive force.
An attorney for guard Sterling Brown filed the lawsuit in federal court Tuesday. The Jan. 26 incident, which has rocked the Milwaukee Police Department, led to the suspensions of several officers.
Brown on that day had been talking with officers while waiting for a citation for illegally parking in a disabled spot outside a Walgreens. Brown was then taken down and had a stun-gun used on him because he didn't immediately remove his hands from his pockets as ordered.
Police Chief Alfonso Morales apologized to Brown last month when body-camera video of the arrest was released. Brown wasn't charged with anything and three officers were disciplined, with suspensions ranging from two to 15 days.
Eight other officers, according to the Associated Press, were ordered to undergo remedial training in professional communications.
Video of the confrontation shows an officer approached Brown around 2 a.m. When their conversation became tense, the officer called more squad cars for help and eventually eight officers were standing around Brown. One asked him to take his hands out of his pockets and a second or two later the scuffle began. Almost immediately, an officer yelled: "Taser! Taser! Taser!"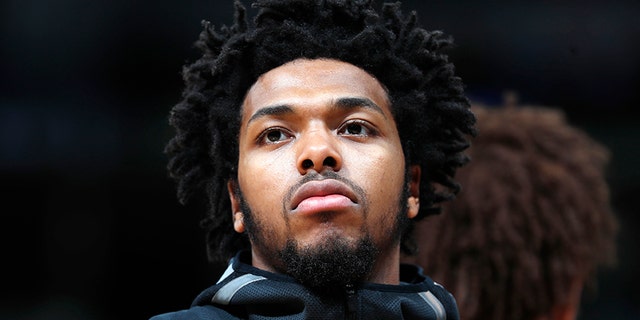 According to the lawsuit, one of the officers later took to Twitter to mock Brown, saying, "Nice meeting Sterling Brown of the Milwaukee Bucks at work this morning! Lol#FearTheDeer
Police only released the body camera video of the first officer who contacted Brown.
But additional body camera and squad car videos obtained by Fox 6 Now showed the moments after officers used a stun-gun on Brown.
In one, Brown is on the ground and handcuffed when an officer puts one of his boots on Brown's ankle, holding it there. Brown doesn't mention being in any discomfort but he questions the officer's actions.
"C'mon man, you're stepping on my ankle for what?" Brown said. In response, the officer said he was trying to prevent Brown from kicking anyone.
Another video shows officers concerned about the aftermath of the confrontation.
"If he makes a (expletive) complaint it's gonna be a media firestorm," an unnamed officer is heard saying, according to Fox 6 Now. "Any little (expletive) that goes wrong, it's gonna be 'ohhh MPD is all racist blah blah.'"
Brown told the Journal Sentinel in an interview last month that he "gave in" when police used a stun-gun and that he didn't do anything to resist because he didn't want officers to "pull out their guns."
"I was just being smart. I just wanted to get out of the situation and get home," he said.
The Associated Press contributed to this report.