Medal of Honor recipient, 91, works to expand monuments for Gold Star families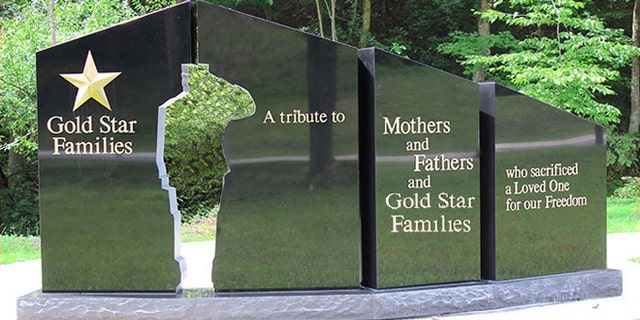 NEWYou can now listen to Fox News articles!
For 91-year-old Medal of Honor recipient Hershel "Woody" Williams, the idea of building monuments to honor families of the fallen came some 70 years ago, when a plane carrying his closest childhood friend, an Air Force serviceman, disappeared over an Indian jungle during World War II -- never to be found.
Decades later, Williams, the last surviving recipient of the Medal of Honor from the battle of Iwo Jima, would devote himself to placing at least one tribute to Gold Star families in every state -- a project the decorated U.S. Marine called "thrilling and inspirational."
The initiative has so far led to the completion of monuments in five cities -- with an additional 20 planning tributes as a result of Williams' work. On Sunday, a ceremony was held in Fall River, Mass., to break ground on a Gold Star Families' Memorial planned for Bicentennial Park.
"I had a mother at Valley Forge say to me, 'You are the first person who has ever said anything about paying tribute to me over the loss of my son."
"We want to get a memorial monument in every major community, " said Williams, who was awarded the military's highest honor for his combat service as a Marine in the Battle of Iwo Jima on Feb. 23, 1945.
"People realize this is something we should have done a long, long time ago," Williams told FoxNews.com from his West Virginia home on Wednesday. "It's unbelievable we've had nothing in this country that actually honors those families."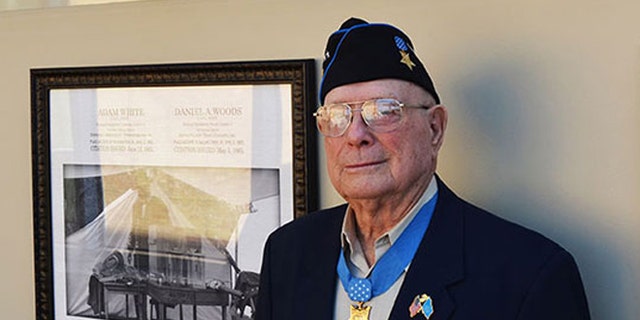 Under Williams' watch, the first memorial for Gold Star families was unveiled in October 2013 in West Virginia, inside a cemetery named after a Vietnam veteran with seven Purple Hearts. Four other monuments would soon follow -- in Tampa, Fla.; Valley Forge, Pa.; Lafayette, Ind. and Fairfield, Ohio.
"I had a mother at Valley Forge say to me, 'You are the first person who has ever said anything about paying tribute to me over the loss of my son,'" Williams said. "That just tears you apart."
For Williams, the quest to build such monuments is personal. He recalled his boyhood friend, Leonard Brown, who joined the U.S. Air Force during World War II, while Williams enlisted in the Marines.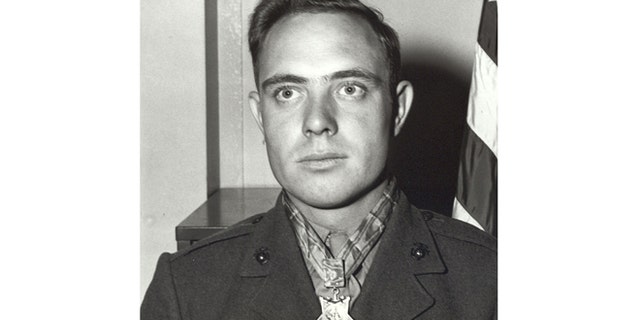 In 1944, Brown's plane disappeared over an area known as "The Hump" -- a name given by Allied pilots to describe the region over which they flew military transport aircraft from India to China.
Williams said he vividly remembers the pain suffered by the Brown family -- in particular, the young man's mother -- when he returned from the war in November 1945 and visited them.
"Mrs. Brown was still very upset and that had a tremendous impact on me," he said. "I was closer to Leonard than I was my own brothers."
After waiting seven years for word on their son -- declared missing in action -- the Browns were told he was dead, even though no trace of the man or his aircraft was ever found.
Upon Williams' return to the U.S., he worked as a taxi driver in Fairmont, W.Va., and was often tasked with delivering telegrams to families of the fallen.
"We had to get a signature to confirm the delivery," he said. "In many cases, the person would open the telegram before signing for it and then break down."
Decades later, Williams would make good on his promise to create tributes to the military families whose loved ones gave their lives in the line of duty.
The American Gold Star Mothers Inc. was formed in the U.S. shortly after World War I to provide support for mothers who lost sons or daughters in the war, but Williams said he prefers the term "Gold Star families" because "everyone grieves when somebody is lost."
Williams and his foundation, the Hershel Woody Williams Medal of Honor Foundation, have set a goal to get a Gold Star Family Memorial Monument in all 50 states. Projects for such tributes are currently under way in cities from Riverside, Calif., to Dallas, Texas, to Rochester, N.Y., Williams said.
The project also has backing from the Obama administration. Williams and his grandson, Brent Casey, the foundation's executive director, met with First Lady Michelle Obama and her staff at the White House in April.
"This changes things and raises things to a whole new level for us," Casey said at the time. "Because we only formed a year and half ago we are just finding our feet and to have the support of the White House will help us greatly in credibility, establishing credence with sponsors… For our foundations at such a young stage to have as great as support as you can get in our country, it's monumental."
On Oct. 5, 1945, Williams visited the White House where President Harry Truman awarded him the Medal of Honor for "conspicuous gallantry and intrepidity at the risk of his life above and beyond the call of duty" as a corporal fighting enemy Japanese forces on Iwo Jima on Feb. 23 of that year.
But to the celebrated war hero, who turns 92 next month, his most recent visit to the White House to see his vision realized was his proudest day.