Math symbol flagged as gun sign sparks police investigation in Louisiana
Less than a week after the Florida high school massacre that claimed 17 lives on Valentine's Day, police were called to a Louisiana high school after fears were sparked by a student drawing the square-root sign, the Ledger-Enquirer reported.
Detectives launched an investigation on February 20 at Oberlin High School after students expressed concern during a math session that the standard symbol, which refers to a number multiplied by itself to produce a new quantity, resembled a gun.
After several students reportedly made such a comment, one student – who was helping a classmate solve the math problem using the square root sign – said something that they may have interpreted as a "threat out of context," prompting the involvement of authorities. The police did not specify what the comment was, but the student's home was searched. No guns were found, nor was there any evidence that the student had access to guns or intended to carry out any crimes.
Allen Parish Sheriff Doug Hebert later indicated that gossip among students had distorted the comment to make it sound as though the student was a potential threat, planning to bring a weapon to school with the intent on committing a mass shooting, the Ledger-Enquirer reported. The controversial comment made, according to Superintendent Michael Doucet, ran along the lines of "now let's get to work before I shoot you with a pistol."
School officials have since concluded in its report that while "the student used extremely poor judgment" in making the remark, there was "clearly no evidence to support charges."
HOW CALIFORNIA GUN OWNERS ARE LEGALLY KEEPING THEIR AR-15 RIFLES
TRUMP TALKS DEMS' MEMO, GUNS AND BORDER WALL IN EXCLUSIVE INTERVIEW WITH FOX NEWS
However, further disciplinary action may be imposed on the student, as Doucet emphasized that the school board has since approved stricter guidelines for shooting threats in response to the incident.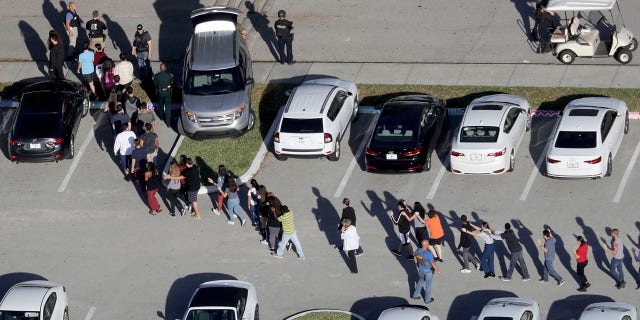 "The first thing we're going to do is remove that student from the premises with proper authority," Doucet told a local ABC affiliate. "Then, we're going to have a home visit done by detectives of the sheriff's department, and if no charges are filed, we're going to conduct a threat assessment on the student."
As of Thursday, the student reportedly remained banned from the property and is awaiting an expulsion hearing.
Schools across the country have been on especially high alert since the Florida shooting earlier this month, which has set the stage for a nationwide gun control debate and student movements calling for a tightening of laws regarding access to weapons.