Marriage license kiosk opens up at Vegas airport in time for Valentine's Day
It doesn't get anymore "Vegas" than this.
Just in time for Valentine's Day, arriving passengers to McCarran airport in Sin City can now apply for a marriage license as they are waiting to get their bags from the carousel.
The Clark County Marriage License Bureau has set up a temporary kiosk in the baggage terminal for would-be husbands and wives to obtain their marriage certificate.
Clark County is the wedding capitol of the world, issuing the most marriage licenses throughout the year in the U.S. -- amounting to almost 80,000 a year on average.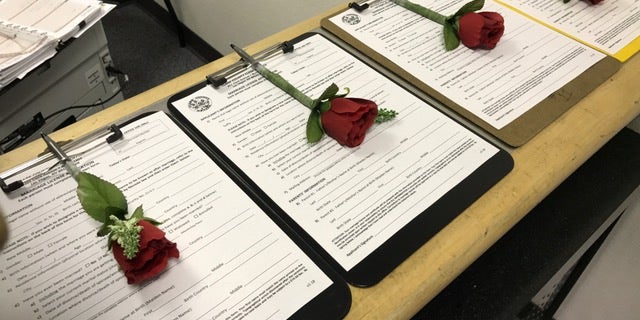 "We issue more licenses in the days leading up to Valentine's Day than we do throughout the year…With Valentine's Day being on a Wednesday this year, we're not expecting it to be as big as it has in other years," said Paula Cook, a marriage services supervisor for the County. So far, however, almost 200 licenses have been issued.
Not to be confused with the actual wedding ceremony, no vows will be said at the actual airport. Only the license itself will be issued. Cook said there were some misconceptions about that particular detail.
Fox News did witness one couple signing up for their license. Christie Estrada and Hector Castaneda from Bishop, Texas came across the outpost as they were retrieving their luggage.
"We were just walking, we were going to get a taxi and we saw the sign. It saved us a lot of time so we can go gamble," said Castaneda.
They are planning to get married at a chapel in Harrah's with 12 members of their family and friends attending.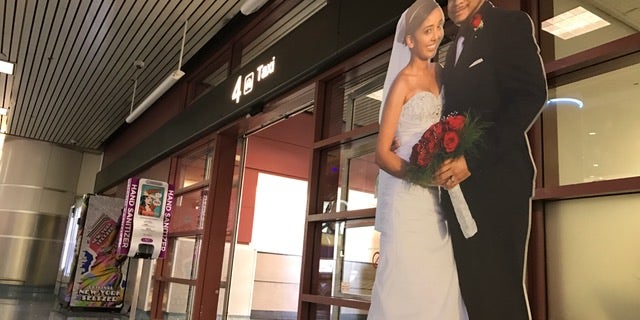 Cook described some of the couples that used the quick hitch services.
"We had a very interesting couple that came from Texas that were on an eleven-hour layover and they said 'Oh, we're just here to go zip lining and we're going to get married while we're here,' so that was kind of cool," Cook said.
Licenses cost $77 and Cook says 2018 has many notable days for couples looking to tie the knot.
Those include the day of the royal wedding between Prince Harry and Meghan Markle on May 19th and Aug. 18th, because the wedding certificate will read "8/18/18." In numerology circles that is what's considered a palindrome, which is a number sequence that reads the same forward and backward.