Many marchers at NYC's Puerto Rican Day Parade say Trump White House abandoned Hurricane Maria victims
In the wake of the devastation caused by Hurricane Maria, the National Puerto Rican Day Parade in New York City saw a slew of protest signs as many marchers claimed the Trump White House abandoned them.
Parade-goers voiced frustration over an apparent under-reporting of the death toll in Puerto Rico and what they called a weak emergency response by President Trump's administration.
Some marchers in the crowd, as The New York Post noted, wore black T-shirts with the number 4,645 on them, referring to the hurricane's estimated death toll according to a recent Harvard University study, as opposed to the government's official count, 64.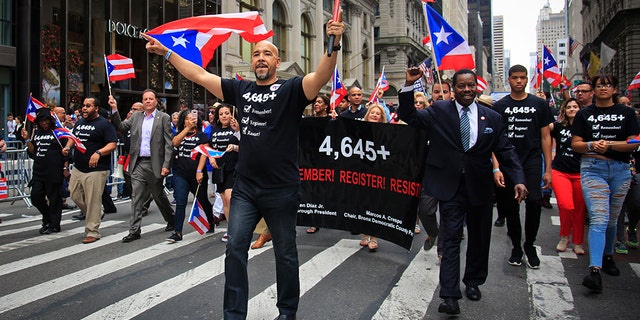 Remembering those still struggling in Puerto Rico "makes today important, but it also makes it bittersweet," said Nora Ortiz.
"We're part of the United States. We are Americans, and I think that I came to represent the fact that no one wants to admit that almost 5,000 lives were lost in Hurricane Maria," Ortiz, 53, of Brooklyn, said.
Many also waved Puerto Rican flags and danced as they made their way down Fifth Avenue.
Also on hand was a marching contingent made up of people who are on the U.S. mainland only because they were displaced from their homes on the island after the hurricane.
Democrat Gov. Andrew Cuomo, who is seeking reelection, walked in the parade.
Along the parade route in the heart of Manhattan, people carried signs with tributes like "New York Stands with Puerto Rico," ''You will not be forgotten" and "Decolonize Puerto Rico."
Julio Pabon led a group of demonstrators who chanted "Respect Puerto Rico" as it passed Trump Tower. They also waved flags in the direction of the luxury high-rise.
"Maria unmasked that we are a colony," said Pabon, 66, of the Bronx. "I'm just tired of the way my island has been treated."
Fox News' Bryan Llenas and The Associated Press contributed to this report.