'Lucky' puppy survives heroin overdose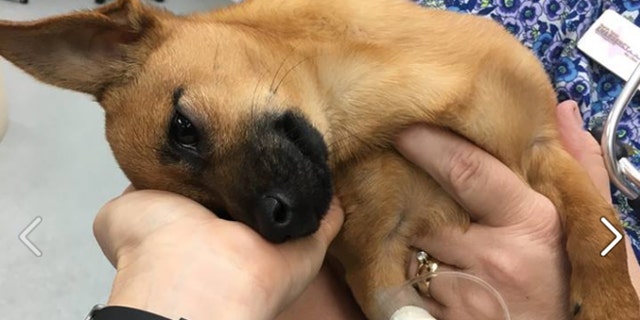 A Chihuahua puppy in Texas experienced a huge stroke of luck after police rescued him from a drug overdose on Saturday.
Carrollton police found the 4-month-old dog on the floor of his owner's car in a Home Depot parking lot.
PUPPY GIVEN ALCOHOL LEADS TO CHARGES FOR 3 OHIO RESIDENTS
The police considered the puppy to be so lucky that he needed a new name. They called him just that - Lucky.
Lucky's owners warned police they had a dog in their car after they were arrested in the Home Depot for allegedly switching price tags.
SCIENTISTS STUDY THE BEST WAY TO TALK TO A DOG
When police checked on the dog, they found that he had eaten an undetermined amount of heroin that the owners left in their car, police said. Lucky was transported to an emergency veterinary clinic immediately.
"He was extraordinarily lethargic, almost comatose, barely breathing, his heart rate was very, very slow, his body temperature was really low," Carrollton Police Department spokesperson, Jolene DeVito told KHOU. "He was really on the verge of not breathing."
Lucky's owners, Thomas Romero, 46, and Nina Crawford, 38, were arrested for heroin possession and for fraudulent destruction, removal, or concealment of writing. DeVito told 1080 KRLD that animal charges will most likely be added to their sentences, as well.
According to police, Lucky is on the mend from his heroin overdose and if his owners do not retrieve him within 10 days, he will be available for adoption.