Louisiana school includes headshot of service dog next to student in yearbook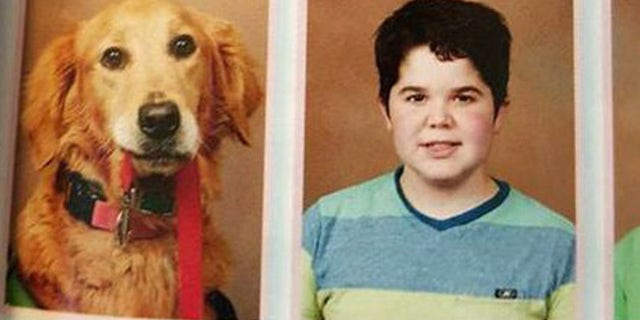 NEWYou can now listen to Fox News articles!
Among all the headshots of smiling students in a Louisiana middle school's new yearbook, one photo clearly sticks out.
It shows Presley, a service dog, and the photo in West Monroe's Good Hope Middle School yearbook has been drawing a lot of attention since it started bouncing around the internet last week.
The 5-year-old golden doodle shows up in the yearbook next to her owner Joseph "Seph" Ware, a 14-year-old Good Hope seventh-grader diagnosed with Duchenne muscular dystrophy. The student relies on Presley to help him get around.
"We're kind of stunned at all the attention," the boy's mom, Lori Ware, told FoxNews.com Friday. "It's humbling. I'm glad Presley is making the world happy."
Ware, 52, said her son has been drawing a paw print when classmates ask him to sign their yearbooks on behalf of Presley.
"He's loving it," she said of her son.
Presley has been at Seph's side since she was a small puppy.
When picture day came around, school officials wanted to include the dog in the yearbook with the other students, Al.com reported this week.
Ware said her son's response was, "why not."
"Seph says that it took about 10 minutes to get Presley to look at the camera - and who knows how many shots," she told Al.com.
Duchenne muscular dystrophy is a genetic condition that causes progressive muscle weakness, AL.com reported. People diagnosed with the condition are usually confined to a wheelchair by the time they are teens.
Good Hope students love having Presley around, Ware said.
"They aren't supposed to pet her, but they sneak pets in the hallways after classes," she told FoxNews.com. "And if Presley hears someone say, 'Oh, look at the pretty puppy,' she perks right up because she knows she's pretty."