Las Vegas massacre survivor dies in California bar shooting
A California man who escaped the mass shooting at a Las Vegas country music festival in October 2017 was one of the 12 people murdered a little more than a year later in another mass shooting at a country music venue.
Telemachus Orfanos was at Borderline Bar & Grill, a Thousand Oaks establishment packed Wednesday for "college country night," when former Marine and Afghanistan war veteran Ian David Long entered the bar, deployed a smoke device and, without a word, began gunning down patrons.
Orfanos, 27, was a military veteran, too, having served in the U.S. Navy from 2011 to 2014. He moved back to California to stay with his parents after he finished his service and, at the time of Wednesday's shooting, he was working for a car dealership.
On Oct. 1, 2017, Orfanos was at the Route 91 Harvest Festival in Las Vegas when a gunman perched inside a Mandalay Bay hotel room overlooking the concert venue rained down a hail of gunfire on the helpless hundreds below. Stephen Paddock killed 58 people and wounded hundreds more before he killed himself. Even 13 months later, investigators have yet to definitively detail a motive for the massacre.
Orfanos made it out alive that night, and, on Thursday morning, his mother, Susan Schmidt-Orfanos was hoping her son had been lucky again.
She made a desperate plea for gun control to reporters at the scene.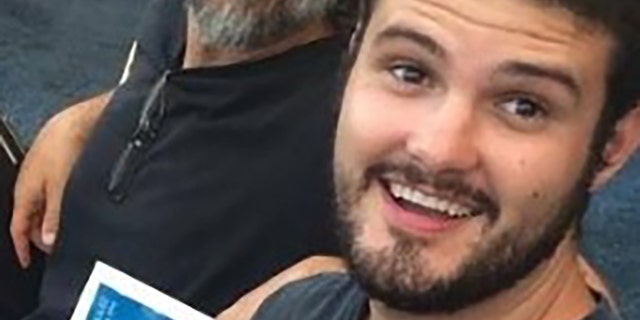 "I don't want prayers. I don't want thoughts," she told reporters. "I want those b-------- in Congress -- they need to pass gun control so no one else has a child that doesn't come home."
Governor-elect Gavin Newsom lamented the violence during a public appearance Thursday, the Democrat's first since winning his election Tuesday.
"It's a gun culture," he said. "You can't go to a bar or nightclub? You can't go to church or synagogue? It's insane is the only way to describe it. The normalization, that's the only way I can describe it. It's become normalized."
Orfanos' father, Mark Orfanos, said the shooter -- who officials indicated may have suffered from post-traumatic stress disorder -- "was probably as much of a victim as everybody else."
"I'm not gonna vilify this kid because he's got parents that are grieving, too," Mark Orfanos said. "And I feel sorry for them as well. Until I find out particularly what the specifics are with this kid who did the shooting I'm not gonna be vilifying him."
He also echoed Newsom in blaming "gun culture."
"How ironic that my son should be killed this way," Orfanos said.
The Associated Press contributed to this report.