Las Vegas gunman reportedly was prescribed anti-anxiety medication in June
NEWYou can now listen to Fox News articles!
Stephen Paddock, the gunman who opened fire on a crowd at a country music concert on the Las Vegas Strip on Sunday, was prescribed an anti-anxiety drug in June, the Las Vegas Review-Journal reported.
The paper, citing records from the Nevada Prescription Monitoring Program, reported Tuesday that Paddock was prescribed 50, 10-milligram diazepam tablets by a physician on June 21. The brand name of the drug is Valium. The report said the drug could trigger aggressive behavior.
Authorities investigating the mass killing may look to a "psychological autopsy" to try to uncover what led Paddock to open fire into a crowd at a country music concert.
Jim Clemente, a retired FBI profiler, said in an interview that if Paddock's suicide did not destroy his brain, experts could find some kind of neurological disorder or malformation.
"The genetics load the gun, personality and psychology aim it, and experiences pull the trigger, typically," Clemente said. He pointed out that Paddock's father — a bank robber — was diagnosed a psychopath.
Clemente speculated that there was "some sort of major trigger in his life — a great loss, a breakup, or maybe he just found out he has a terminal disease."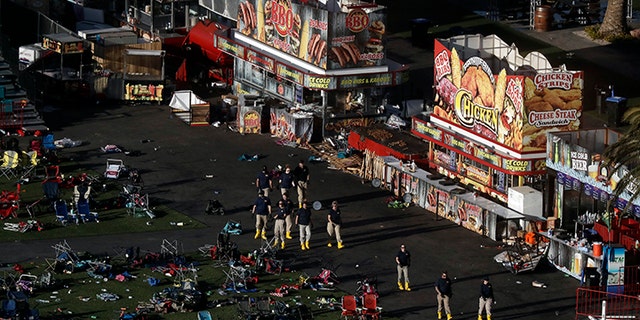 New York forensic psychiatrist James Knoll in 2008 described a "psychological autopsy" as a procedure that originated in 1958 that "involves a thorough and systematic retrospective analysis of the decedent's life, with a particular focus on suicide risk factors, motives, and intentions."
Paddock, armed with nearly two dozen guns, fired down from his room on the 32nd floor at the Mandalay Bay Resort and Casino into a crowd of 22,000 people at the Route 91 Harvest Festival. He killed at least 59 and injured over 500 in about 11 minutes.
Paddock had no known criminal record, and public records showed no signs of financial troubles, though he was said to be a big gambler.
His brother, Eric Paddock, said he was at a loss to explain the massacre.
"No affiliation, no religion, no politics. He never cared about any of that stuff," the brother said outside his Florida home.
The FBI dismissed early on the possibility of a connection to international terrorism, even after the Islamic State group claimed responsibility for the attack.
Eric Paddock said his brother did show a confrontational side at times: He apparently hated cigarette smoke so much that he carried around a cigar and blew smoke in people's faces when they lit up around him.
Authorities have been talking with Paddock's girlfriend Marilou Danley, 62, who was out the country at the time of the shooting, but returned to the U.S. from the Philippines on Tuesday night.
Clark County Sheriff Joseph Lombardo said he was "absolutely" confident authorities would find out what set off Paddock.
The Associated Press contributed to this report.