Larry Nassar, gymnastics doctor for Olympics and Michigan State University, sentenced for child porn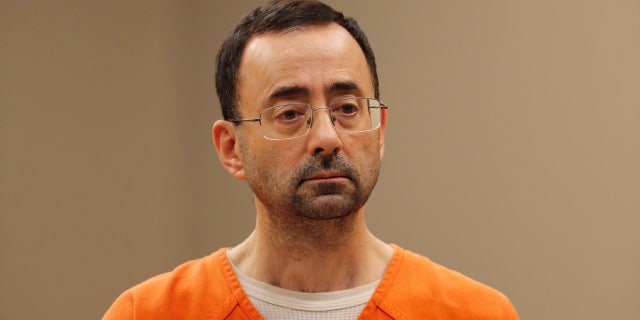 Larry Nassar -- the disgraced ex-gymnastics doctor accused of assaulting more than 140 women and girls, including several Olympic stars -- was sentenced Thursday to 60 years in federal prison on pornography charges.
Nassar, who's pleaded guilty to 10 counts of sexual assault, was sentenced in a separate case Thursday in which he was found to have received and possessed 37,000 images of child pornography and attempted to destroy pictures to avoid charges.
Federal Judge Janet Neff said Nassar, 54, "should never again have access to children."
A growing chorus of accusers -- including Olympic gymnasts McKayla Maroney, Aly Raisman and Gabby Douglas -- as well as lawyers and Michigan's Attorney General are now turning their attention towards Michigan State University, calling on the school to release its internal review of Nassar amid accusations Michigan State covered up Nassar's crimes, a charge the university "unequivocally denies."
RELATED: MICHIGAN STATE ACCUSED OF COVERING UP WORST SEX ABUSE SCANDAL IN U.S. SPORTS
Maroney and her mother, Erin, wrote victim impact statements to the judge in Thursday's case. In the letters, they called for a maximum sentence for Nassar and blasted Michigan State and other institutions for allowing Nassar to, as he admitted in court, molest women and girls thousands of times throughout his 20-year career.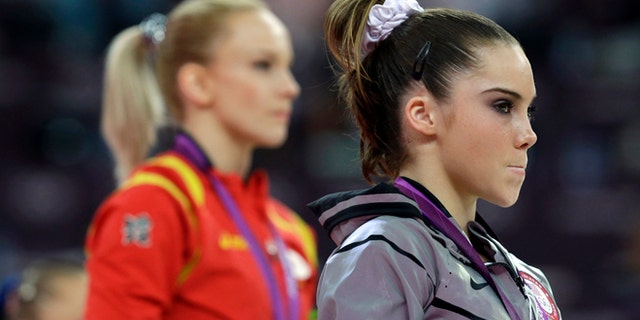 "Dr. Nassar was not a doctor, he in fact is, was, and forever shall be, a child molester, and a monster of a human being," McKayla Maroney wrote. "It all started when I was 13 or 14 years old, at one of my first National Team training camps, in Texas, and it didn't end until I left the sport. It seemed whenever and wherever this man could find the chance, I was 'treated.' It happened in London before my team and I won the gold medal, and It happened before I won my Silver Medal. For me, the scariest night of my life happened when I was 15 years old. I had flown all day and night with the team to get to Tokyo. He'd given me a sleeping pill for the flight, and the next thing I know, I was all alone with him in his hotel room getting a "treatment." I thought I was going to die that night."
Maroney's mother wrote about the impact Nassar's abuse had on her daughter:
"This experience has been shattering to McKayla. She has transformed from a bubbly, positive, loving, world class athlete into a young adult who was deeply depressed, at times suicidal and essentially descended into an emotional abyss. At times I was unsure whether I would open her bedroom door and find her dead. Her father and I have been living this nightmare for years and until recently we felt hopeless. Nassar and those individuals and institutions that protected him almost snuffed out my daughter."
Erin Maroney shared a nightmare scenario she said continues to haunt her family: "How many more images were on his computer at MSU…? …Did he trade those images with other pedophiles? Are those images on the dark web today? …Will she wake up one day to find an image of her 13-year-old self being assaulted…?"
Michigan State spokesman Jason Cody told Fox News in a statement that Nassar's sentencing represented "another important step toward justice for the victims."
"His behavior was deeply disturbing and repugnant, as the state and federal criminal charges that he has been convicted of show," Cody said. "Allegations have been made against the university, claiming it is engaged in a cover-up by university administrators. MSU unequivocally denies this accusation. Moreover, MSU and its external counsel have consistently promised if it were to find any employee knew of and acquiesced in Nassar's misconduct, it would immediately be reported to law enforcement."
But an attorney representing several of Nassar's alleged victims accused the university of engaging in "systemic protection" of the doctor.
"This is one of the largest and most prestigious public universities in the country, and they've engaged in the systemic protection of a child molester," John Manly told Fox News. "Clearly Michigan State has a culture of secrecy. They have a report about 150 little girls being molested, and they're not going to release it? That is outrageous. President [Lou Anna K.] Simon, release the report or resign."
Cody told Fox News no report exists from their work with their law firms, Skadden Arps and Miller Canfield.
But other lawyers representing Nassar's accusers say MSU officials could have prevented the scandal if they followed Title IX and mandatory reporting laws. During Nassar's tenure at MSU from 1997-2015, at least seven women or girls say they made verbal complaints to school officials.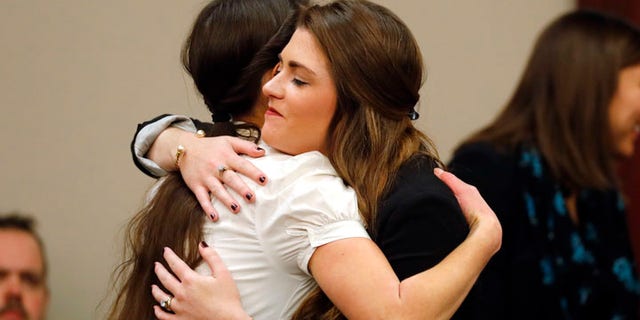 When MSU finally conducted Title IX investigations of Nassar in 2014, the lawyers said, Michigan State botched it and allowed Nassar to continue allegedly molesting dozens of women and girls for two more years -- all under the guise of their treatment being "medically appropriate."
Rachael Denhollander, the first Nassar victim to speak publicly and file a police report in September 2016, told Fox News she was "absolutely confident MSU was covering this up." She was one of the last accusers to join the lawsuit because she wanted to see how MSU would respond.
"We were silenced. We were mocked. And our abuser was told time and time again, 'I'm on your side,'" Denhollander said. "That gives me all I need to see how Nassar preyed on women and little girls for so many years."
The comments were echoed by Jamie Dantzscher, an Olympic Bronze Medalist in Artistic Gymnastics.
"Michigan State University ignored complaints about Nassar going back to the 1990s, yet they continued to allow him to 'treat' me and other Olympic athletes," Dantzscher told Fox News. "How many other Larry Nassars are out there right now abusing children who want nothing more than to pursue their Olympic dreams? We may never know. This has to end."
The Associated Press contributed to this report.