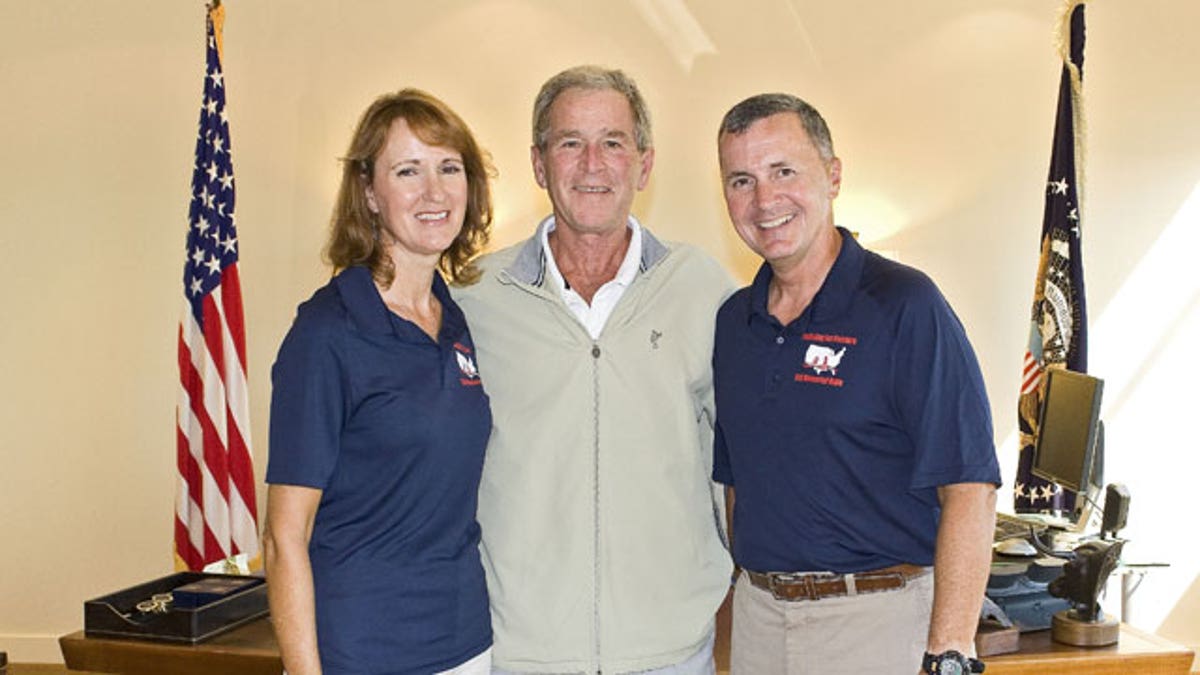 Halfway through their ride across the country, Rob and Kim Richer got an unexpected invitation to meet with President George Bush in Texas. Bush spent about an hour with the couple, who are riding their bikes 3,200 miles from Jacksonville, Florida, to San Diego to raise money for the CIA Officers Memorial Foundation.
"He spoke very highly of the officers in the CIA and fondly remembered his briefings by them each morning when he was President. He mentioned many officers by name and said he was always impressed by their knowledge, saying that they were some of the most comprehensive briefings he ever received," Rob Richer told Fox from Abilene, Texas.
In a statement, David Sherzer, a spokesman for Mr. Bush, told Fox, "President Bush was honored to meet with the Richers and appreciates their efforts to support America's CIA families."
The Richers said the former President was surprised to learn that children of military members killed in the line of duty receive tuition and a stipend for schooling (based on Congressional legislation passed in 2009) , but the children of CIA officers killed in the line of duty do not receive the same benefit.
Rob's wife Kim, who is his riding partner on the trip, says their mission to raise money and awareness about the CIA has been rewarding in unexpected ways.
"There is just a strong love of country and love of the flag as you travel across the country," Kim told Fox.
In Texas, as the Richers rode long stretches without a person or car in sight, they happened across a friendly group of cowboys. The Richers explained to the group why they were in the middle of nowhere. At the end of the conversation, one of the men handed the couple twenty dollars and wished them the best.
Fox first met the couple back in September. Riding his bike across the country was always on Rob Richer's bucket list, but with the suicide bombing in Khost, Afghanistan, last December, the former CIA officer and his wife Kim finally had a reason to ride.
"To me this ride is about saying something to them, your family member was special," said Rob, who spent his career in the Middle East. He told Fox News the journey across eight states was highly personal. "They loved you and they were doing something for their country."
"These people, I felt a real affinity for," Kim Richer told Fox News before one of the couple's final training sessions. "This could have been me left behind and my children left behind."
Seven new stars for Khost are chiseled into the memorial wall at CIA headquarters. Now, there are 102 stars – each one for an agency employee who died in the line of duty. Twenty-two stars have been added since Al Qaeda attacked the twin tours, the Pentagon and Shanksville Pennsylvania.
"Our teams were on the ground in Afghanistan 15 or 16 days after 9/11; we were the first in," John McLaughlin told Fox in a rare interview about the CIA Officers Memorial Foundation. McLaughlin spent 22 years at the agency. Having served as deputy director and acting director, McLaughlin said 9/11 was a tipping point.
"The first American to die in Afghanistan was a CIA officer. Johnny Micheal Spann died in November 2001 in a firefight at a prison in Mazar-i-Sharif. Spann was buried in Arlington National Cemetery because he also was a captain in the Marine Corps. According to the Arlington Cemetery website, Spann was shot twice in the head.
"When Mike Spann was killed in Afghanistan, it really rang a bell for us. Sooner or later, we're going to feel an obligation to provide support to the families of people killed in the line of duty. Mike had a wife and two children, one of which started college with the help of our support." McLaughlin also told Fox that this past June, the foundation awarded about $520,000 in scholarships to 31 students. Twenty were children of fallen officers.
Because of the secrecy their jobs require, the Richers say CIA officers who die in the line of duty don't get the recognition they deserve. There are a lot of sacrifices when a mother or father, like the officers killed in Khost, are away from home and families for long periods of time.
Now retired from the agency, Rob said he's making it a priority to spend more time with his family – though he knows the seven officers killed in Khost will never have that chance.
The Richers hope to raise enough money for a couple of good scholarships. They are blogging and posting pictures at their website, pedalingforpatriots.com. Donations can be made there as well.