Kentucky woman seeks help finding family who housed hers when she ran out of money – nearly 20 years ago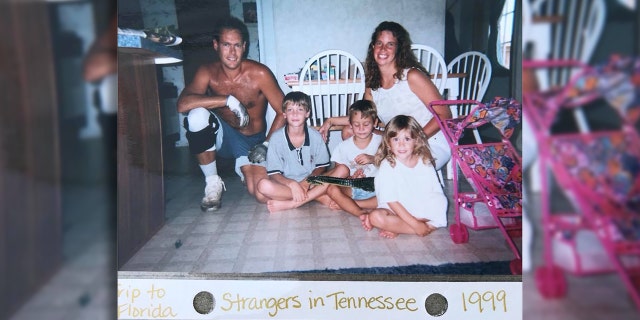 NEWYou can now listen to Fox News articles!
A Kentucky woman says she probably has a "zero chance" to find the family that helped give her and her family shelter nearly 20 years ago – but she is reaching out to the internet for help.
In 1999, Cambrie Anderson and her family were returning to Indianapolis from a trip to Disney World in Orlando when they ran out of money and had nowhere to sleep while driving through Tennessee.
In a Facebook post, Anderson said they were somewhere on Interstate 65 or Interstate 24 west but had no idea exactly where.
"Somehow, I befriended a family at a gas station and they graciously let us sleep at their home that night (it may have happened differently, but that's how I remember it,)" she wrote with a photo from that night. "Yes, we slept in the house of a complete stranger."
Now, 19 years later, Anderson is on a mission to find the family that helped them out so many years ago. She posted a photo of the family online with the caption "Strangers in Tennessee."
"There is probably (a) zero chance I will find them, but hopefully social media can help," she wrote. "Here is the family. All I know is they lived somewhere in Tennessee in 1999."
Anderson told WBIR-TV that while she now lives in Louisville, she is moving to North Carolina later this month.
"It's a long shot, but I suppose crazier things have happened," she said, adding that five people have reached out, but she has still not found the family.