Kentucky State Rep. Dan Johnson commits suicide after sexual assault accusations emerge, officials say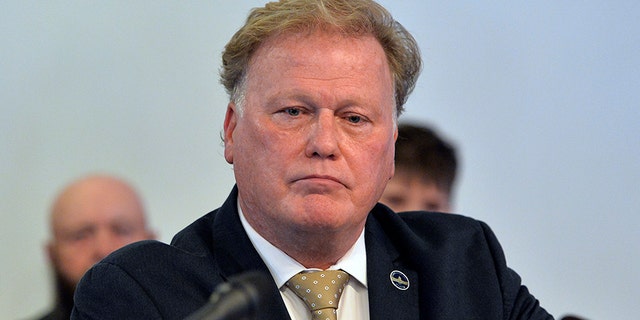 A state representative in Kentucky shot and killed himself Wednesday evening, officials said -- just days after a report emerged in which a woman said he sexually assaulted her when she was 17.
Rep. Dan Johnson, a preacher and a Republican, shot himself on a bridge in Mt. Washington, southeast of Louisville, Bullitt County Sheriff Donnie Tinnell told WDRB. His body turned up on a riverbank near the bridge and the weapon reportedly was found at the scene. He was 57.
Earlier Wednesday evening, WDRB said Johnson took to Facebook to post about the accusations leveled against him, claiming they were "false" and "only GOD knows the truth."
On Monday, the Kentucky Center for Investigative Reporting published an account from a woman claiming that Johnson sexually assaulted her in the early morning hours of Jan. 1, 2013.
The woman said she attended a party at his home on the night of the incident. She reportedly fell asleep on a sofa and woke up to Johnson kneeling over her, before she claimed he assaulted her. The woman said she reported the incident but Louisville police closed the case without charges.
Johnson told reporters on Tuesday that the accusations were "totally false." But leaders of the state Republican and Democratic parties had called for the representative to resign.
His Facebook post added that PTSD "24/7 16 years is a sickness that will take my life, I cannot handle it any longer. IT Has Won This Life. BUT HEAVEN IS MY HOME."
The post also read, "I LOVE GOD and I LOVE MY WIFE, who is the best WIFE in the world,My Love Forever ! My Mom and Dad my FAMILY and all five of my kids and Nine grandchildren two in tummies and many more to come each of you or a total gift from GOD stay strong."
Michael Skoler, president of Louisville Public Media, which owns the Kentucky Center for Investigative Reporting, said everyone at the organization is "deeply sad."
"Our aim, as always, is to provide the public with fact-based, unbiased reporting and hold public officials accountable for their actions," Skoler said. "As part of our process, we reached out to Representative Johnson numerous times over the course of a seven-month investigation. He declined requests to talk about our findings."
"Just terrible news from Kentucky tonight on the passing of Rep. Dan Johnson. I cannot imagine his pain or the heartbreak his family is dealing with tonight. Kelley and I pray for his loved ones," Sen. Rand Paul tweeted.
The Associated Press contributed to this report.