Jury chosen for Kate Steinle murder trial, opening statements to begin Monday
A jury has been selected in the highly-publicized trial of an illegal immigrant accused of shooting and killing Kate Steinle on a popular San Francisco pier in 2015.
Opening arguments in the case were slated to begin Monday.
Six men and six women were selected Wednesday for the trial of Jose Ines Garcia Zarate, 54, who was charged with murder in the death of Steinle, 32, on July 1, 2015.
Steinle was walking with her father on the pier crowded with pedestrians when she was shot. She collapsed into her father's arm, whimpering "help me, Dad." The bullet struck her heart and she died in her father's arms.
CALIFORNIA BECOMES 'SANCUTARY STATE' AS GOV. BROWN DEFIES TRUMP ADMINISTRATION
Zarate had been deported five times to his native Mexico and was homeless in San Francisco when he said he found a gun wrapped in a t-shirt underneath the bench he was sitting on.
Zarate said the gun fired when he picked it up. He acknowledged shooting Steinle but said the gun he was handling had accidentally discharged before striking the young woman. The gun had been stolen from the car of a Bureau of Land Management ranger several days before the shooting.
A ballistic expert testified the bullet ricocheted off the concrete pavement before fatally striking Steinle in the back.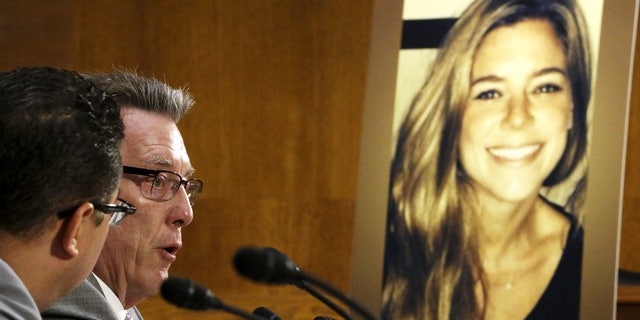 The slaying became a political issue that President Trump used during his presidential campaign. Trump referred to Steinle's death as a reason to toughen U.S. immigration policies.
The judge has prohibited the politics of gun control and immigration from Zarate's trial.
Since being elected, Trump has threatened to withhold federal funding to so-called sanctuary cities such as San Francisco, several of which have filed lawsuits to prevent the move.
Earlier this month, Democratic Gov. Jerry Brown signed legislation making California a "sanctuary state." The bill bars police from asking people about their immigration status or participating in federal immigration enforcement activities in most cases starting Jan. 1, 2018.
ICE TO CALIFORNIA: 'NO CHOICE' BUT TO ARREST ILLEGAL IMMIGRANTS DESPITE SANCTUARY STATE LEGISLATION

The jurors who were selected had to answer a 14-page questionnaire that probed their views about Latinos, immigration and guns. They were also quizzed about their gun ownership and political views of firearms.
Mercury News reported the jurors include two people who work in technology. The ages of the jurors range from the early 20s to 30s, and at least one of the chosen spoke Spanish.
"We are very pleased with the jury," said Matt Gonzalez, Zarate's attorney. "We have such great diversity built in San Francisco and I think we have a jury that understands a lot of the concerns about the defendant receiving a fair trial."
The Associated Press contributed to this report.