Judge seeks WikiLeaks damage assessments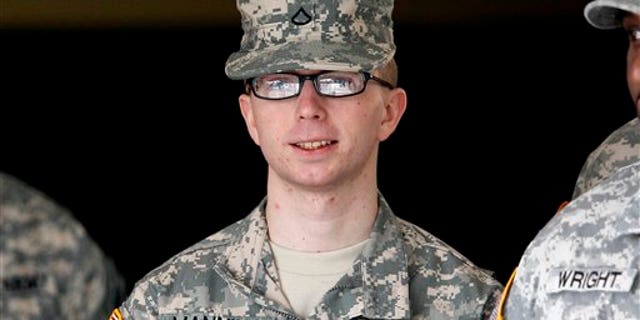 FORT MEADE, Md. – A military judge on Tuesday ordered Army prosecutors to provide government assessments of the potential damage caused by the online publication of reams of government secrets allegedly leaked by a low-level Army intelligence analyst.
Col. Denise Lind said during a pretrial hearing that she will review the documents to determine whether they contain information that must be given to Pfc. Bradley Manning's defense lawyers. She told prosecutors to get her the damage assessments by May 18.
Lind's ruling followed a sometimes heated courtroom debate over defense claims that prosecutors have not fulfilled their obligation to provide Manning's lawyers with evidence they uncover that could aid the defense, a process called discovery.
Lind said she would rule Wednesday on another defense motion to dismiss all 22 charges against Manning.
The 24-year-old Oklahoma native is being court-martialed for allegedly downloading and sending to the anti-secrecy website WikiLeaks hundreds of thousands of sensitive documents, diplomatic cables and video clips. He could be sentenced to life in prison if convicted of aiding Al Qaeda in the Arabian Peninsula by causing the information to be published.
No trial date has been set, and Manning hasn't entered a plea to the charges.
The pretrial hearing at Fort Meade, Maryland, which is located between Baltimore and Washington, is scheduled to run through Thursday. It mainly concerns the production of evidence both sides will use to shape their trial strategies.
Manning's attorneys are seeking damage assessments done by the CIA and the Departments of Justice, State and Defense to back up their claim that the leaked documents didn't hurt U.S. interests.
Lead defense attorney David Coombs said prosecutors' failure to quickly obtain and share the documents was "disheartening" and contrary to military judicial tradition.
"We have open discovery. We don't hide the ball," he said. "No gamesmanship, no holding things back."
Prosecutor Maj. Ashden Fein countered that the defense request was vague and overly broad.
"If the defense is asking for anything the department has, well, that sounds more like a fishing expedition" he said.
Fein also accused the defense of trying to "graymail" the government. Graymail is the threatened revelation of state secrets in order to manipulate or derail legal proceedings.
The prosecution has gone beyond the letter of the law in trying to meet its discovery obligations, Fein said. But he said those efforts have been slowed by the process of obtaining civilian agency approvals and searching the documents for relevant material.
State Department spokeswoman Victoria Nuland told reporters in Washington that the publication of diplomatic cables damaged U.S. relations with some countries.
"Our view of the entire WikiLeaks incident has not changed at all in terms of the negative effects," she said.
Nuland said there hasn't been much impact on embassies' reporting back to Washington. "But that doesn't change the fact that there was enormous turbulence in many of our bilateral relationships when this happened, and that there have been impacts on individuals."
The defense also asked for transcripts of a federal grand jury investigation in the Eastern District of Virginia into whether WikiLeaks founder Julian Assange can be prosecuted for the disclosures Manning allegedly fostered. Although the grand jury probe is a civilian proceeding, Coombs argued that the departments of Defense and Justice are closely aligned, if not working jointly, on investigating WikiLeaks.
Defense lawyers say Manning was clearly a troubled young soldier who never should have been deployed to Iraq or given access to classified material.
He was working as an intelligence analyst in Baghdad when he allegedly copied classified material from government computers and used personal computers to send it to WikiLeaks with Assange's help. The material WikiLeaks published included cockpit video of a 2007 U.S. Apache helicopter attack that killed a number of civilians, including a Reuters news photographer and his driver. The government says the civilian deaths were accidental.
Manning has been in pretrial confinement since he was charged in May 2010, and his treatment at a Marine Corps base caused his support base to swell. The Quantico brig commander, citing safety and security concerns, kept Manning confined 23 hours a day in a single-bed cell. For several days in March, he was forced to sleep naked.
Lind denied a request by the New York-based Center for Constitutional Rights, representing Assange and WikiLeaks, for access to all Manning court-martial documents. A consortium of news media, including The Associated Press, is also seeking access to the court-martial records. Lind said that she is not the keeper of those records. She indicated that such requests should be directed to the commander of the Military District of Washington, Maj. Gen. Michael Linnington.