Jewish students at New Jersey university worry about rising anti-Semitism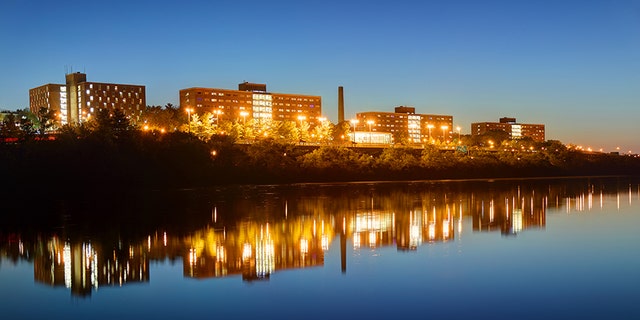 Swastikas have been scrawled on the walls of university buildings, drawn on dry eraser boards and taped to dorm room ceilings. Jewish students have reported being threatened with violence, while some professors have espoused conspiracy theories ranging from Jews controlling global money markets to carrying out ritualistic organ harvesting.
Jewish students and officials at Rutgers University in New Jersey say they have seen all this and more amid a disturbing rise of anti-Semitic sentiment on campus over the past few months.
"This is a disturbing trend what we're seeing here at Rutgers, which has one of the largest Jewish student populations in the country," Austin Altman, a sophomore at Rutgers and a member of the campus' Hillel organization, told Fox News. "Coming here to Rutgers you feel like you're at home because of the large Jewish presence here, and then having to face things like swastikas on buildings is definitely troubling."
While it is difficult to pinpoint exactly when the school first started to see a spike in anti-Semitism, many members of the school's Jewish community point to the controversial online postings of microbiology professor Michael Chikindas.
Chikindas over the last year has posted numerous anti-Zionist tirades along with a number of derogatory caricatures of Jews on his Facebook page. Numerous Jewish students have also expressed concerns to officials at Rutgers Hillel about being graded fairly by Chikindas if they were to take one of his classes.
"What he posted on his Facebook page are some of the most vile anti-Semitic tropes there are," Andrew Getraer, executive director of Rutgers Hillel, told Fox News. "He posted caricatures of hooked nose Jews that could be right out of Nazi propaganda."
Getraer added: "I don't think there is place for a professor like that at a university molding young minds."
A petition started by students at Rutgers Hillel to have Chikindas suspended has so far garnered more than 5,000 signatures, but officials at the university have so far not taken action against the tenured professor.
In a statement last month, Rutgers University – a public institution -- said that all members of the Rutgers community, including faculty and staff, are free to express their viewpoints in public forums as private citizens. The school, however, called Chikindas' comments "antithetical to our university's principles and values of respect for people of all backgrounds, including, among other groups, our large and vibrant Jewish community."
"Yet at Rutgers University we must also foster an environment free from discrimination, as articulated in our policy prohibiting discrimination," the statement noted. "The university is reviewing this matter to determine if actions taken in the context of his role as a faculty member at Rutgers may have violated that policy."
Chikindas did not respond to Fox News' request for comment.
Chikindas is not the only the professor that has provoked Rutgers' Jewish student population.
Jasbir Puar, a professor of women's and gender studies, is drawing heat for her forthcoming book that allegedly claims that Israel has a policy of shooting Palestinians to maim them, as part of a program to dominate them.
Then there is Mazen Adi, an adjunct professor who next semester will teach a political science class called "International Criminal Law and Anti-Corruption." Before joining Rutgers, Adi spent 16 years as a diplomat the government of Syrian dictator Bashar Al-Assad.
"It started with Chikindas, but has really escalated from there," David Ezrapour, another student and member of Rutgers Hillel, told Fox News.
Puar also did not respond to Fox News' request for comment.
Along with the controversy over the professors at Rutgers, the school has also had to deal with a number of anti-Semitic incidents on campus. Students have reported minor incidents of harassment and seeing anti-Semitic flyers being circulated around campus, but what has garnered the most attention has been swastikas appearing on campus.
Last January, a Jewish student reported finding a "huge swastika" taped on the ceiling outside her bedroom and earlier this year another swastika was found drawn on a dry erase board in a campus residence hall.
The most recent incidents occurred in late October when two swastikas surrounded by a red circle with a red line through the symbol were found spray-painted on the outside walls of two university buildings. An investigation revealed that, at least one of the symbols, was drawn out by a student protesting Nazis' and anti-Semitism. The university said in a statement to Fox News that "the defacement of campus buildings is an act of criminal mischief and these incidents are being investigated."
Despite at least one of these incidents being carried out by someone protesting anti-Semitism, Jewish students and staff still say it marks a disturbing trend.
"While this incident involved a very confused, but not seemingly anti-Semitic student, it is always disturbing to see a swastika anywhere," Getraer said.