Jailhouse Crock: Unfinished prison costs Detroit area taxpayers $1.2M per month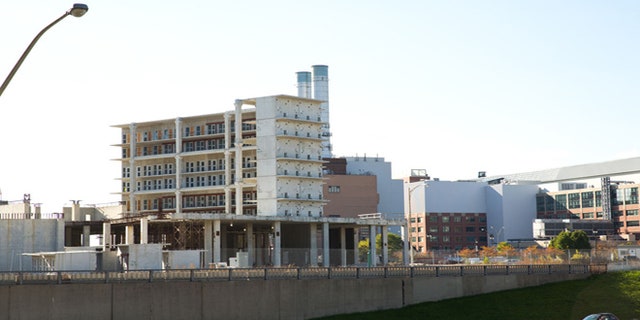 NEWYou can now listen to Fox News articles!
A prison in downtown Detroit that was deemed too expensive to complete is now a construction site frozen in time that still costs cash-strapped local taxpayers more than $1 million a month.
It was supposed to be a state-of-art lockup in the heart of the Motor City, but four years after breaking ground, with construction costs totaling $150 million and no end in sight, the city pulled the plug on the project four years ago.
Now, the Wayne County Jail sits empty among the ruins of a bankrupt city, costing taxpayers upwards of $1.2 million in debt service and monthly upkeep costs for electricity, security, sump pumps - and even off-site storage for pre-fabricated jail cells that will never be used.
"The Wayne County Jail was a mess since it was created," Rose Bogaert, head of the Wayne County Taxpayers Association and chair of the Michigan Taxpayer Alliance, told FoxNews.com. "At this point, the only thing we should do is cut our losses. If someone is willing to purchase it, we should sell it.
"Everyone knows that these projects never stay within budget, and this one was in a bad location to begin with," she added. "It never made sense. There needs to be more thought put into these projects before they start building."
County officials have yet to make a decision as to what to do with the facility. But while they dither, the monthly meter is running. According to figures compiled by the Detroit Free Press some of the monthly costs include:
Security: $10,849
Sump pump maintenance: $12,852-
Warehouse space to store pre-cast jail cells: $15,000
Electricity: $4,000
Debt service: $1.1 million
Despite the hefty costs of the jail, and the county teetering on the brink of bankruptcy, Wayne County Executive Warren Evans does not appear to be any closer to making a decision on the building site.
"Due to the county's financial state, anything done on the ... jail will just add to the deficit," Lloyd Jackson, a spokesman for Evans, told the Free Press. "Once the deficit has been solved, the county can move forward with options on whether to finish the Gratiot site or renovate the three existing jails. As the county makes progress on its recovery plan, it will better be able to solve the jail issue."
The Wayne County Jail was originally proposed as a $300 million, 2,000-bed jail that would combine the other county correctional facilities. Ground was broken on the work site in September 2011, but was stalled nearly two years later, in June 2013, when a 60-day suspension was imposed after projected cost overruns totaled nearly $100 million. Construction never resumed, and later that summer, the Wayne County Prosecutor's Office launched an investigation into the project.
The investigation led to the arrest of former Wayne County Chief Financial Officer Carla Sledge, attorney Steven Collins and construction manager Anthony Parlovecchio.
Five parties have expressed interest in buying the construction site, including Quicken Loans founder Dan Gilbert, who has been active in Detroit's ongoing attempt at urban renewal. But so far, the county has not accepted any offers—which is proving costly to taxpayers.
"I think we all understand that these things have to be done to keep the site safe, but these are costs that should have been built into the price of construction," Bogaert said. "That's why we say dump it."