Israeli PM, chief rabbi at odds over Pittsburgh synagogue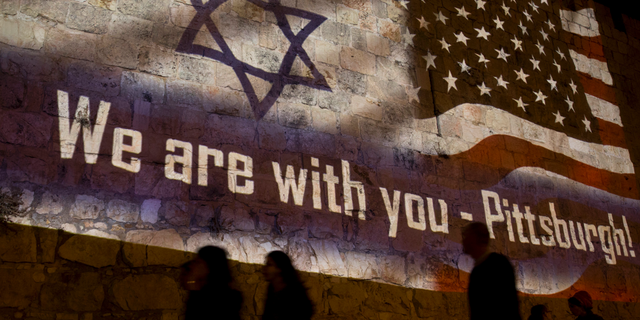 JERUSALEM – Israeli Prime Minister Benjamin Netanyahu said Monday that the 11 Jewish victims of the Pittsburgh shooting attack were killed in a "synagogue," taking a veiled swipe at the country's ultra-Orthodox chief rabbi, who had refused to designate the Conservative Jewish congregation as such.
The exchange exposed some of the recent strains between Israel and the more liberal Jewish Diaspora, even in the wake of the deadliest anti-Semitic attack against Jews in U.S. history.
The shooting has drawn fierce condemnations and calls for unity among Jews in Israel and around the world. Several ultra-Orthodox Israeli newspapers, however, refrained from calling Pittsburgh's Tree of Life Synagogue a Jewish place of worship since they don't recognize non-Orthodox denominations, instead mostly referring to it as a "Jewish center."
Similarly, Chief Rabbi David Lau told a local newspaper that the shooting attack was "unforgivable" but also referred to the Conservative synagogue merely as "a place with a profound Jewish flavor."
In a tweet, Netanyahu seemed to rebuff him.
"Jews were killed in a synagogue. They were killed because they are Jews. The location was chosen because it is a synagogue. We must never forget that. We are one," he wrote.
Israel's ultra-Orthodox authorities maintain a strict monopoly over daily Jewish life in the Holy Land, including oversight of weddings, divorces, conversions and burials. They often question the faith and practices of the more liberal Reform and Conservative streams of Judaism, to which most American Jews belong.
Netanyahu's coalition government relies on the support of key ultra-Orthodox parties and he has often had to capitulate to their demands on matters of religion and state. The ultra-Orthodox establishment views other strains of Judaism as too lax and is deeply opposed to interfaith marriage and the ordination of women and gays, while American Jews have increasingly felt that they haven't been valued in Israel as equals despite their ardent backing and identification.
A government decision to scrap plans for a mixed-gender prayer area at Jerusalem's Western Wall, and insults hurled at those pushing for it, has led American Jewish leaders to warn that it could undermine their long-standing political, financial and emotional support for Israel.
The recent passing of a controversial law enshrining the state's Jewish character, which critics at home and abroad say has undercut Israel's traditional democratic values, has also irked American Jews, who increasingly find themselves at odds with the government's nationalist, religious and pro-settlement bent.
Yair Lapid, head of the centrist opposition Yesh Atid party, said the tragic shooting should serve as a reminder to "those who claim the Reform and the Conservative are not real Jews." He called on the government to restore the mixed-gender prayer site and to recognize the conversions of all strains.
"The state of Israel bows its heads for their deaths, but this is not enough," he said in parliament. "Not only in their deaths are they Jews like us, but in their lives. Not only in their deaths should the government respect them, but also in their lives."