Iraqi prime minister says counteroffensive will focus next on Anbar province and town of Beiji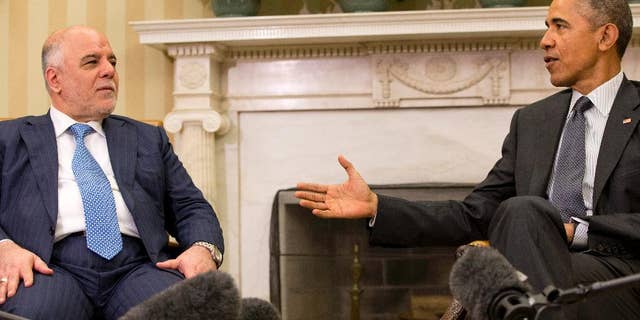 WASHINGTON – Iraqi forces supported by U.S. airpower will follow their victory in Tikrit with campaigns aimed at defeating the Islamic State group in the oil town of Beiji and the western province of Anbar, Iraqi Prime Minister Haider al-Abadi said Wednesday.
In an interview one day after meeting with President Barack Obama, al-Abadi said the biggest prize — the northern city of Mosul — would come later in a calculated series of counteroffensives against the militants.
"I'm working on a timetable, which I'm not going to reveal," he told a small group of reporters at Blair House, the presidential guest house across the street from the White House. He said the Mosul counteroffensive would not come before the Muslim holy month of Ramadan, which begins this year in mid-June.
There has been a great deal of speculation about the timing of Iraq's move to regain control of Mosul. U.S. officials had indicated they preferred the Iraqis make their move this spring, but al-Abadi made clear that it would not be before summer.
He said his forces intend to liberate the western Anbar province and secure the strategic town of Beiji before taking aim at Mosul, which has been held by Islamic State fighters since last June.
Yet after a strategic Iraqi victory this month in Tikrit, south of Beiji, the Islamic State group launched its own offensive in Anbar Wednesday. It captured three villages near the provincial capital of Ramadi.
The recapture of Tikrit was the Iraqi government's first major victory in Iraq's Sunni heartland.
Speaking shortly before meeting with Defense Secretary Ash Carter, al-Abadi also said the timing of the Iraqi campaign depends on the extent of additional military support his forces receive. He expressed gratitude for U.S air power and said his biggest need is for international "support we can rely upon."
He mentioned specifically a need for tanks. "We need them badly," he said.
But the Iraqi leader may go home without new military aid. Obama pledged another $200 million in humanitarian support to Iraq for those displaced by Islamic State militants, but the president made no mention of any further military support. He only said the U.S. and Iraq are continually improving coordination to make sure Iraqi forces are positioned to succeed.
The prime minister also defended his government's acceptance of support from Iran, whose influence in Iraqi is a matter of concern for the Obama administration. He called Iran's assistance "crucial historically and at present."
He said there are 110 Iranian military advisers in Iraq, compared with about 3,000 American advisers, trainers and security forces. The Iranian advisers played a key role in the defeat of Islamic State forces in Tikrit; U.S. officials complained that some Iranian-back Shiite militias were not operating under Iraqi government control, but al-Abadi indicated that this concern was misplaced.
"Iran considers the threat by Daesh as a threat to its own national security," he said, using an Arabic acronym for the Islamic State group. Iran is worried at the prospect of IS taking control of Diyala province, which borders Iran, he said.
"Iran is not secure from the threat of Daesh," he said, adding that the Islamic State group has established "a branch" inside Iran. "So this is very dangerous for Iran, so Iran helped Iraq to stop this advance."
Al-Abadi also expressed worry about the conflict in Yemen, saying "it has all the potential to become a sectarian war" that could spread across the region. He said his government is "uneasy" about U.S. military support for Saudi Arabia, which has been conducting an aerial bombing campaign against Shiite rebels in Yemen.
Asked about efforts to attain a ceasefire in Yemen, al-Abadi said his understanding from the Obama administration is that "the Saudis are not helpful in this. They don't want a ceasefire now."