Investigators have 'number' of unanswered questions in disappearance, return of New Hampshire teen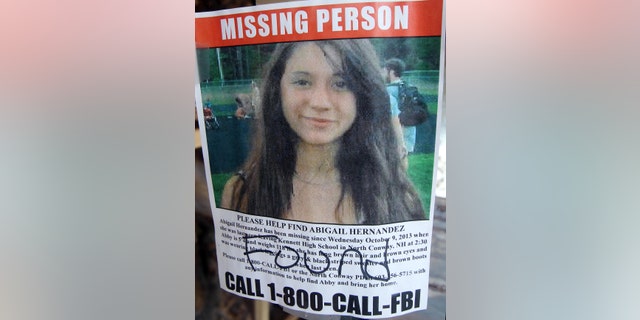 NORTH CONWAY, N.H. – Since 15-year-old Abigail Hernandez returned home last week, her photo has been taken off the National Center for Missing and Exploited Children's website. The missing-person posters that hung in her hometown for nine months are now scrawled with "Found." Her mother says she and her family are "the happiest people on earth."
But investigators are left with questions about how and why Abby vanished after leaving her high school in Conway on Oct. 9 and who may have helped conceal her for so long. Law enforcement officers have repeatedly asked for the public's help but have revealed very little.
Senior Assistant Attorney General Jane Young, who heads the criminal bureau, said law enforcement is still devoting a tremendous amount of time and resources to unravel the mystery.
Based on Abby's description, authorities released a sketch of the man she says drove her away last October year, but they're still trying to determine whether she went willingly or was coerced.
"We continue to say we have a number of questions we don't have answers to," Young said.
Young won't comment on Abby's degree of cooperation into the investigation.
Police did reveal several months ago that Abby had written home to her mother. When the letter surfaced, FBI Special Agent In Charge Kieran Ramsey said Abby could have run away willingly or someone could still be coercing her into staying away from home.
Bob Lowery, vice president of the missing-children division at the NCMEC, said Abby's return after such a long disappearance is "unusual but not unprecedented."
"Realistically, the longer children are gone, the likelihood they're going to be found diminishes," Lowery said.
In 2012, NCMEC took on 10,689 missing-children cases and helped resolve all but 81 of them. In most instances, the child was unharmed.
In Abby's case, there must be a lot going on behind the scenes that the public doesn't know about, said Albert "Buzz" Scherr, who teaches criminal law at the University of New Hampshire School of Law.
"You never get cases like this where you're at the end game of the case, and it's completely unclear what happened," Scherr said.
Potential criminal charges in the case could include kidnapping, impeding an investigation or hindering apprehension or prosecution "if there are people out there who knew more than what they told police to cover for Abby," Scherr said.
Young said investigators had no evidence of foul play but worked countless hours to find Abby because "she went dark."
"A child cannot do this on their own with this level of sophistication to stay off the grid," Young said last week. "Especially a child of this age -- they live through phones and social media."
At the request of colleagues at the Massachusetts-based Mission for the Missing organization, retired New Hampshire State Police Lt. John Healy examined letters and other written statements issued over the past nine months by Abby's parents, who live apart.
"In none of the letters did I detect any sense of fear or desperation," Healy said. "My sense is they strongly suspected she was gone voluntarily. Law enforcement obviously couldn't reach the same conclusion and say, `We're done with this."'