Inauguration Day weather forecast: gray and wet
The thousands of people heading to Washington to see Donald Trump take his oath as the country's 45th president might consider taking a rain jacket or poncho.
Meteorologists are forecasting that Washington, D.C. will be gray and damp on Inauguration Day. Rain is moving and is expected to reach the capital shortly before noon – just as the crowds are assembling at the Capitol Hill West Lawn for the official festivities.
The chances of showers will increase throughout the morning as rain storm from the south creeps up into Washington. The rain should move out of the area around 2 p.m. just in time for the inaugural parade to begin making its way through the District's streets at 3 p.m.
WHAT YOU NEED TO KNOW: INAUGURATION DAY AGENDA, TRIVIA AND MORE
Due to the rain forecast, the National Park Service has revised its policy, saying it will allow mall, collapsible "totes"-style umbrellas on the parade route and the National mall. However, umbrellas are still prohibited in any ticketed area on the Capitol grounds.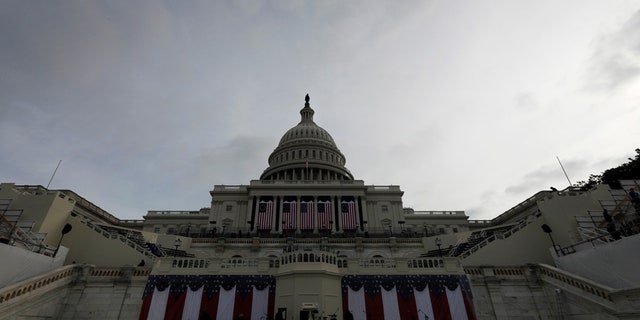 Fox News meteorologist Janice Dean noted that the temperatures are expected to stay in the warmer side, which means no snow or blizzards – unlike in 1909 when Washington, D.C. received nearly 10 inches of snow for then-President William Taft.
The warmest Inauguration Day was 1981 at 55 degrees, while the coldest was just four years later (1985) with the coldest at 7 degrees when festivities began. Both days marked the days 40th President Ronald Reagan took office for his two terms.
FROM A LASSOED PRESIDENT TO DRUNK VP, INAUGURATIONS HAVE OFTEN BEEN UNPREDICTABLE AFFAIRS
The most infamous Inauguration Day weather occurred when President Willian Henry Harrison took the oath on a cold and windy day in March 1841. Despite the weather, Harrison gave a speech that lasted 1 hour and 40 minutes and went to and from the Capitol without wearing an overcoat.
He died one month later after catching a cold that developed into pneumonia. It was the shortest tenure in United States presidential history and sparked the passage of the 25th Amendment in 1967 which established the line of succession.
One person not worried about the weather - President-elect Trump.
At the candlelight dinner at Union Station on Thursday night, Trump welcomed the forecast, joking that if nothing else, it would prove "it's my real hair."
"It may rain, it may not rain. It doesn't matter. I don't care," Trump said. "If it really pours, that's OK because people will realize it's my real hair and that's OK. It might be a mess, but they're going to see that it's my real hair."