In internal document, US officials demand Syria action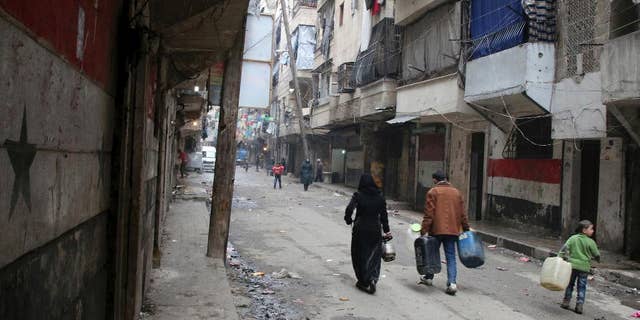 NEWYou can now listen to Fox News articles!
WASHINGTON – Dozens of State Department employees have endorsed an internal document that advocates U.S. military action to pressure Syria's government into accepting a cease-fire and engaging in peace talks, officials said Thursday. The position is at odds with U.S. policy.
The "dissent channel cable" was signed about 50 mostly mid-level department officials who deal with U.S. policy in Syria, according to officials who have seen the document. It expresses clear frustration with America's inability to halt a civil war that has killed perhaps a half-million people and contributed to a worldwide refugee crisis, and goes to the heart of President Barack Obama's reluctance to enter the fray.
Obama called for regime change early on in the conflict and threatened military strikes against Syrian forces after blaming President Bashar Assad for using chemical weapons in 2013. But Obama only has authorized strikes against the Islamic State and other U.S.-designated terror groups in Syria.
While Washington has provided military assistance to some anti-Assad rebels, it has favored diplomacy over armed intervention as a means of ushering Syria's leader out of power. A series of partial cease-fires in recent months have only made the war slightly less deadly, and offered little hope of a peace settlement.
The dissent document was transmitted internally in a confidential form and since has been classified, said officials, who weren't authorized to discuss such material and insisted on anonymity. The Wall Street Journal and The New York Times both quoted from the document Thursday, saying they had seen or obtained copies.
The Journal said it called for "targeted air strikes." The Times quoted a section urging a "judicious use of stand-off and air weapons" to advance the U.S. diplomatic effort led by Secretary of State John Kerry.
"The moral rationale for taking steps to end the deaths and suffering in Syria, after five years of brutal war, is evident and unquestionable," the Times quoted the document as saying. "The status quo in Syria will continue to present increasingly dire, if not disastrous, humanitarian, diplomatic and terrorism-related challenges."
State Department spokesman John Kirby said the department was reviewing the cable, which arrived via a "vehicle in place to allow State Department employees to convey alternative views and perspectives on policy issues."
Republican and even some Democratic lawmakers have been urging Obama to take greater military action in Syria for years, from air strikes to the establishment of a no-fly zone over rebel-held areas. As secretary of state, Hillary Clinton pushed some of these steps, too.
But Obama has resisted, fearful of leading America into another war in the Muslim world after finding it impossible to withdraw U.S. forces from Afghanistan and keep forces out of Iraq. Military commanders have been similarly reticent, given the lack of a clear alternative to Assad that might unify Syria and advance U.S. national security interests.
Nevertheless, Obama has said Assad must relinquish control if there is to be peace. And Kerry, Clinton's successor as the chief U.S. diplomat, has repeatedly said that to defeat the Islamic State, the U.S. must be able to assure Syria's many other rebel groups that there will be a post-Assad future for their country.
The dissent document echoes these sentiments, calling the government's barrel bomb attacks on civilians "the root cause of the instability that continues to grip Syria and the broader region."
The Syrian president, who is a member of the Shiite-linked Alawite minority and is backed by Russia and Iran, has vowed to maintain power. The rebels are led by Syria's Sunni majority, though they also include representatives of other groups.
"Crucially, Syria's Sunni population continues to view the Assad regime as the primary enemy in the conflict," the document said, according to the Times.
"Failure to stem Assad's flagrant abuses will only bolster the ideological appeal of groups such as (IS), even as they endure tactical setbacks on the battlefield," the Journal quoted it as saying.