Immigration sweep nets 70 people in Oklahoma, Texas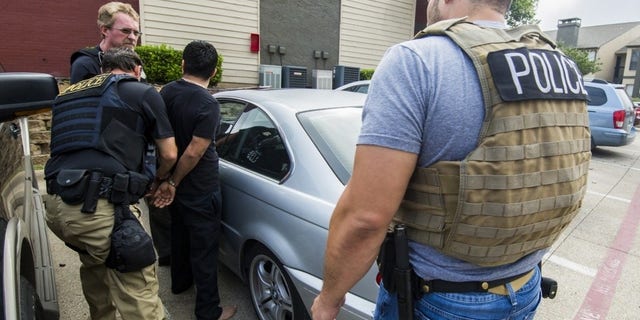 NEWYou can now listen to Fox News articles!
Federal authorities say agents have arrested 70 people in Oklahoma and Texas as part of a three-day sweep targeting immigrants with criminal records or who were in the U.S. illegally.
The sweep, conducted by Enforcement and Removal Operations (ERO), ran through June 3 and resulted in the arrest of 62 illegal residents from Mexico, three from El Salvador, and one each from Cuba, Guatemala, Korea, Zimbabwe and Sri Lanka.
ILLEGAL IMMIGRANTS NOW HAVE RINGTONE ALERTING THEM FROM DEPORTATION
Sixty-four of those arrested were men between the ages of 18 and 54. The remaining six were women, according to Oklahoma City's KOKH.
ERO said that among the worst offenders arrested during the sweep were a previously deported 27-year-old Mexican national convicted of assault and battery with a dangerous weapon and a 28-year-old man, also Mexican, who allegedly belongs to the "Eastside Homeboys" street gang in Dallas.
The apprehensions in Texas occurred in the greater Dallas area.
ICE said in a statement that agents with its enforcement and removal operations division focus on those who pose a threat to national security or public safety.
The three-day roundup follows others that have occurred this year in Texas and elsewhere.
ICE agents in April arrested more than 150 immigrants in South Texas.
The AP contributed to this report.