Illegal immigration grew by 740,000 people in 2016 due to overstayed visas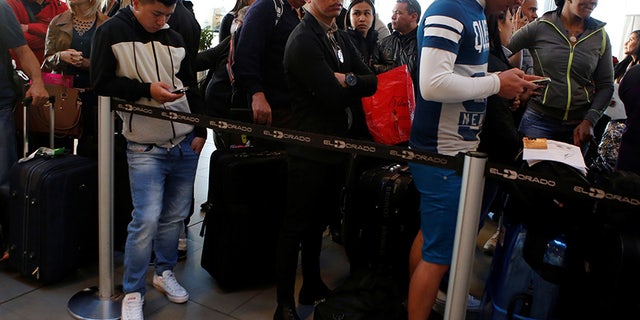 Nearly 740,000 people, more than the population of Alaska, overstayed their U.S. visas last year, the Homeland Security Department said Monday.
A large percent of those were students and foreign exchange visitors — 79,818 — who were supposed to leave in 2016 but didn't.
China had the largest number of student overstays, followed by Saudi Arabia, South Korea, India and Brazil, the department said.
Homeland Security last year published the number of overstays for the first time in at least two decades, saying 527,127 people who came by air or ship stayed past their visas from October 2014 to September 2015.
REPS. GOODLATTE, LABRADOR: IMMIGRATION REFORM STARTS WITH US ENFORCING ITS OWN LAWS
An estimated 40 percent of the roughly 11 million people currently in the country illegally stayed past their visas.
This year's report added student and foreign exchange visitors and many visa categories for temporary workers, while last year's only counted business travelers and tourists. Homeland Security said it will make additional improvements in future reports, including more data on people who cross by land.
President Donald Trump vowed during last year's campaign to finish building a system to record when visitors leave the country by using biometric identifiers, like facial or iris scans, but he has focused much of his attention on building a wall and hiring more border agents.
MORE CITIES OFFERING TO PAY LEGAL DEFENSE FOR ILLEGAL
IMMIGRANTS
Homeland Security's internal watchdog said earlier this month that immigration agents waste their time logging in and out of archaic computer systems while trying to track down foreigners suspected of overstaying their visas only to find out later that many visa holders have left the country.
The AP contributed to this report.