Hurricane season in Atlantic expected to be 'above-normal,' with 2 to 5 'major storms,' forecasters say
A robust start to the Atlantic hurricane season shows no signs of slowing down, forecasters said Wednesday.
The National Oceanic and Atmospheric Administration's updated hurricane forecast now predicts 14 to 19 named storms as part of an "above-normal" season, an increase from projections in May of 11 to 17, with five to nine hurricanes.
Two to five hurricanes are expected to be "major," with sustained winds of at least 111 mph, an increase from May's prediction of 2 to 4.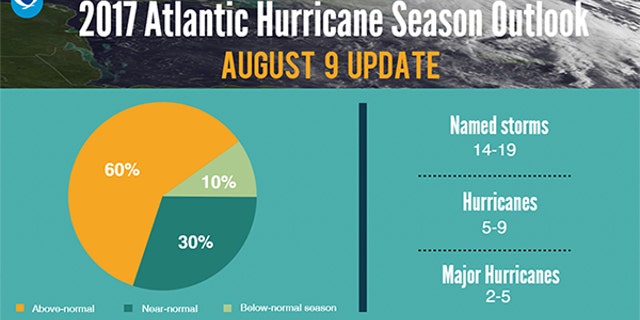 "We're now entering the peak of the season when the bulk of the storms usually form," Gerry Bell, lead seasonal hurricane forecaster at NOAA's Climate Prediction Center, said in a statement. "The wind and air patterns in the area of the tropical Atlantic and Caribbean where many storms develop are very conducive to an above-normal season. This is in part because the chance of an El Nino forming, which tends to prevent storms from strengthening, has dropped significantly from May."
In just the first nine weeks of this season, there have already been six named storms – nearly half the number of storms during an average six-month season – and double the number of storms that would typically form by early August.
Two of those storms, Cindy and Emily, struck the U.S coast in June and July.
"Today's updated outlook underscores the need for everyone to know their true vulnerabilities to storms and storm surge," FEMA Administrator Brock Long said. "As we enter the height of hurricane season, it's important for everyone to know who issues evacuation orders in their community, heed the warnings, update their insurance and have a preparedness plan."
An average Atlantic hurricane season, which runs from June 1 to November 30, produces 12 named storms, of which six become hurricanes, including three major hurricanes, according to the NOAA.
Hurricane Franklin weakened into a tropical storm early Thursday after slamming into Mexico's Central Gulf Coast. But the storm still posed a threat to a mountainous region that's vulnerable to floods and mudslides.
Franklin strengthened into the first hurricane of the Atlantic season on Wednesday. It was the storm's second landfall on Mexico in the last three days.