Hurricane Harvey hero 'Mattress Mack' hosting Thanksgiving feast for 'everybody'
The owner of a furniture chain in Texas who touched the hearts of many after he turned one of his stores into a makeshift shelter for victims of Hurricane Harvey is showing his compassionate side once again.
Jim McIngvale, also known as "Mattress Mack" told ABC News he was offering a hot meal on Thanksgiving to those affected by the devastating hurricane and those who were not at his store in North Freeway. He said the dinner was for "anybody and everybody."
"We want to get together as a community and be grateful that we've gotten through this storm together," McIngvale, 66, told ABC News.
"We're going to celebrate the things we have to be thankful for," McIngvale, said. "We have had a lot of problems in this community over the past three months, but we also have a lot to be thankful for."
FAMILY FUNERAL FOR A THIRD OF TEXAS CHURCH SHOOTING VICTIMS
McIngvale said he was opening the doors of Gallery Furniture because he was inspired by his community's "resilience" following the devastating storm.
"Every day I'm amazed by the resilience of these people, and how brave they are and how strong they are," McIngvale said.
"I think if we can get people together around a meal it's a great way to build relationships, and that's what we're trying to do, build relationships and move forward as a community," he said.
The store owner said he was paying for the dinner himself but some food vendors have offered "Mattress Mack" contributions. People have also come forward offering to volunteer during the dinner.
TEXAS STATE SUSPENDS GREEK LIFE AFTER FRATERNITY PLEDGE DIES
"We have hundreds of volunteers who want to come and serve because I think people get as much out of giving as they do receiving," McIngvale said.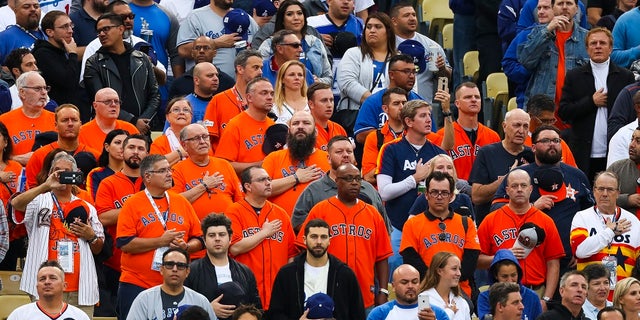 "Mattress Mack" said he would "not be surprised" if some 3,000 guests attend the dinner.
In August, the furniture store owner made national headlines for opening the businesses doors to hurricane victims suddenly left homeless. McIngvale, now a local celebrity, also flew first responders from the hurricane to the Houston Astros World Series game.
"It's the least we could do to say thank you," McIngvale told "Fox & Friends" earlier this month.