Hunt on for gunman who killed 5, including 4 women, at Washington mall
A guman who entered a Macy's at a Washington state mall and killed five people remained at large Saturday as authorities investigating the shooting said they were trying to determine the motive but there was no indication that it was a terrorist act.
People fled, customers hid in dressing rooms and employees locked the doors of nearby stores after gunshots rang out just after 7 p.m. Friday at the Cascade Mall in Burlington. A helicopter, search teams and K-9 units scoured the area for a rifle-carrying man in a police response that included more than 200 officers.
"There are people waking up this morning and their world has changed forever," Burlington Mayor Steve Sexton said Saturday at a news conference. "The city of Burlington has probably changed forever."
Mount Vernon Police Lt. Chris Cammock said Saturday the victims were four females and a male. The female victims included a teenager and seniors. He provided no information about the male victim. They were shot in the Macy's make-up department.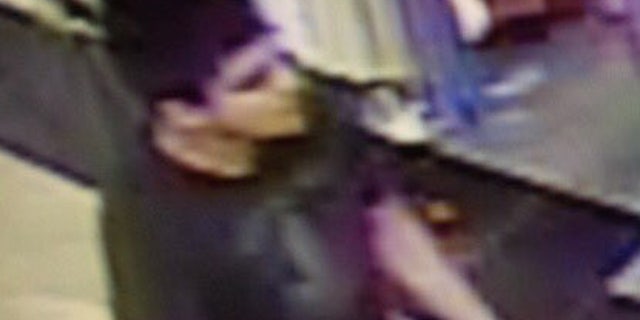 Cammock said police did not know the name of the suspect and appealed to the public for help.
He also told reporters security cameras captured the suspect in the mall without a weapon and then in Macy's with a rifle ten minutes later.
That gun, a "hunting-type" rifle, was recovered at the scene, he said.
Seattle FBI agent Michael Knutson said at a news conference there was no evidence to point to terrorism.
Earlier Saturday, Washington State Patrol spokesman Sgt. Mark Francis said police were searching for a Hispanic man wearing black who was last seen walking toward Interstate 5 near the mall, located about an hour north of Seattle.
"Stay indoors, stay secure," Francis said.
Cammock said cops searched the 434,000-square-foot mall for the gunman but he had already fled.
Authorities released a surveillance image of the suspect from a mall security camera. Police didn't know if the victims were targeted.
Washington Gov. Jay Inslee said in a statement that many questions remain but state patrol and local law enforcement are on the scene working swiftly to locate the shooter and clear the area.
"Trudi and I send our condolences to the families of the victims and prayers for anyone injured," Inslee said. "We urge residents to heed all safety and detour warnings. Stay close to your friends and loved ones as we await more information and, hopefully, news of the suspect's capture."
Tari Caswell told the Skagit Valley Herald she was in the Macy's women's dressing room when she heard "what sounded like four balloons popping."
"Then I heard seven or eight more, and I just stayed quiet in the dressing room because it just didn't feel right. And it got very quiet. And then I heard a lady yelling for help, and a man came and got me and another lady, and we ran out of the store," Caswell told the newspaper.
Stephanie Bose, an assistant general manager at Johnny Carino's Italian restaurant near Macy's, told the Associated Press she immediately locked the doors to the restaurant after hearing about the shooting from an employee's boyfriend.
"He was trying to go to the mall and people were screaming," she said. "It was frantic."
She said he could see police at the doors with assault rifles and said they were no longer guarding the doors as of 9:30 p.m. local time.
Authorities closed access roads and streets surrounding the mall. Visitors and workers who were escorted from the mall were taken to a nearby church to meet their loved ones.
The Cascade Mall opened in 1990, according to the mall's website. There's Macy's, J.C. Penney's and TJ Maxx, as well as other stores, restaurants and a movie theater.
On Sept. 17 a man stabbed 10 people at a Minnesota mall before being shot and killed by an off-duty police officer. Authorities say Dahir Ahmed Adan, 20, stabbed the people at the Crossroads Center in St. Cloud.
The Associated Press contributed to this report.