Hundreds take part in frigid Coney Island Polar Bear plunge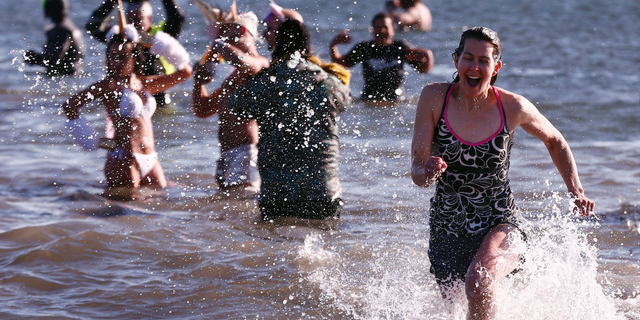 NEW YORK – Hundreds of people have participated in Coney Island's annual New Year's Day Polar Plunge despite the temperature outside sitting at a frigid 17 degrees (minus 8 Celsius) and the water temperature estimated at 37 degrees (almost 3 Celsius).
Hundreds more were on hand Monday to cheer the brave souls as they splashed into the Atlantic Ocean, a New York tradition since 1903.
Some people dressed in dinosaur or penguin outfits. Others donned underwear or bathing suits.
It was the seventh plunge for 65-year-old Louie Forte of Brooklyn. He said this was his coldest year yet.
Dennis Thomas is president of the Coney Island Polar Bear Club. He estimates participation was lower than last year because of the cold.
The event raises money for charities, including The New York Aquarium.