Hundreds of firefighters battle Arizona wildfire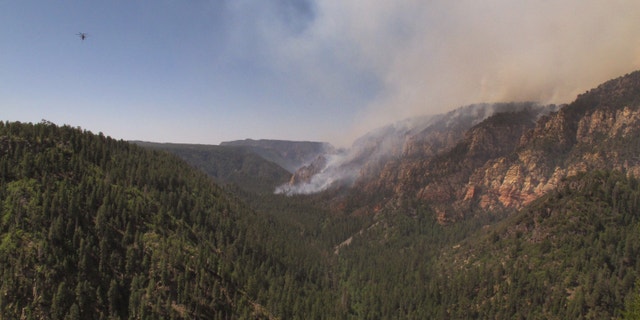 NEWYou can now listen to Fox News articles!
A wildfire in Arizona that began in a scenic canyon spread toward Flagstaff on Thursday, prompting residents to prepare to flee and blanketing the city in smoke.
There are no reports so far of injuries or structures burned, MyFoxPhoenix.com reported.
The Slide Fire started Tuesday and burned 7.5 square miles in and around Oak Creek Canyon, a scenic recreation area along a highway between Sedona and Flagstaff.
Fire incident commander Tony Sciacca said the fire was 3 to 3 1/2 miles away from the residential areas of Forest Highlands and Kachina Village, where 3,200 residents remained under pre-evacuation warnings.
An evacuation order was issued for several hundred residents north of Slide Rock State Park, MyFoxPhoenix.com reported.
About 100 structures were ordered to evacuate, which include private homes, resort cabins and a Forest Service Lookout tower.
A primary focus of firefighting efforts will be to pinch off the fire where it has reached the top of the canyon's northeast corner to keep it from burning northward up a wash toward the residential areas, said Dick Fleishman, a spokesman for fire managers.
Sciacca said 500 firefighters were assigned to the fire Thursday, with an additional 200 personnel expected by later Thursday as more crews and engines arrive.
Flagstaff Fire Department captain and a spokesman for firefighting managers Bill Morse told My Fox Phoenix that calming fire conditions in southern California have freed up extra crews to help in Arizona

"Fortunately the fires in San Diego have calmed down enough for the resources to be released here," Morse said.
The weather may help, with weaker wind and slightly higher humidity expected Thursday and a chance of rain by Friday, Fleishman said.
As smoke billowed over their homes, residents threatened by the flames filled their vehicles with clothes, heirlooms, medication, legal documents and family pictures.
"I'm a Korean War veteran. There's not much that worries me," said 82-year-old Dick Summit, who decided to leave town and arranged to stay with a friend in nearby Flagstaff.
"It's pretty bad, we're all ready," said Ken Patrick, a Flagstaff city worker whose home was among those threatened by the fire. "I don't know if we're going to wait for them to tell us to get out of here. It's a no-brainer."
Elsewhere in this village of about 1,400 off Interstate 17, residents were clearing brush away from their homes and hosing down the landscape. Search and rescue crews with the Coconino County Sheriff's Office were going door to door while pre-evacuation warnings were in place checking to see which residents were home and which weren't. For those who they knew were safe, they placed a yellow ribbon on their mailboxes.
The fire broke out at the start of the tourist season and closed the main road between Sedona and Flagstaff. It's burning near Slide Rock State Park, a popular recreation area because of its natural rock water slides.
Sophie Lwin, of Peoria, said she had relatives from the Los Angeles area coming in for a weekend at the Butterfly Garden Inn, which had to evacuate because of the fire.
"It's Memorial Day weekend. It's going to be so hard and so expensive to get anything anywhere else," Lwin said.
The fire forced the evacuations of 100 threatened businesses and homes in a 2-mile stretch north of the state park, and 15 people stayed at a shelter in Flagstaff.
As the fire moved up the canyon's steep walls, it sent up large amounts of smoke and ash and created hazy conditions in Flagstaff, about 15 miles from the blaze.
The blaze presented several challenges for firefighters, including steep terrain, thick pine forest, gusting winds and the drought conditions, said Bill Morse, a Flagstaff Fire Department captain and a spokesman for firefighting managers.
The fire comes less than a year after a blaze in nearby Prescott killed 19 firefighters who were part of a Hotshot crew.
The Associated Press contributed to this report.