Hundreds Attend Vigil for 3 Missing Michigan Boys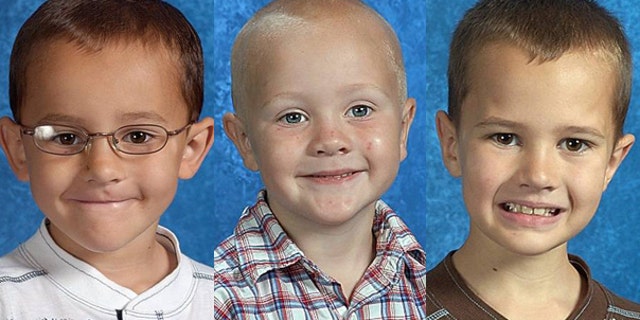 Hundreds of people lit up a small Michigan town Sunday with candles and flashlights during a vigil for three missing boys last seen at their their father's home on Thanksgiving, MyFoxDetroit.com reports.
A local pastor said the event in Morenci, Mich., was held to "light the way home" for the boys -- 9-year-old Andrew, 7-year-old Alexander and 5-year-old Tanner Skelton -- who were reported missing Nov. 26 after their father didn't return them from a court-ordered visitation.
John Skelton, 39, told investigators that he gave the boys to a female acquaintance to hand over to their mother before he tried to commit suicide.
Skelton faces three kidnapping charges and is fighting extradition from Ohio to Michigan. He remains jailed on a $3 million bond.
Authorities said last week that it's looking less likely that the boys will be found alive, though no murder charges have yet been filed.
"Statements he [Skelton] made to investigators indicate it's not going to be a positive outcome," Morenci Police Chief Larry Weeks told reporters.
Police ended their volunteer search for the boys on Friday, according to the station. That effort included a dive team and hundreds of people searching fields and abandoned properties.
Clergy and family members reportedly visited Skelton in jail and pleaded for him to give authorities more information on the boys' whereabouts.
The search has consumed Morenci, a town of about 2,000 residents 75 miles southwest of Detroit. Last week's annual Christmas parade has been canceled, and City Hall shut down so it could be used as a command center.
Police have released Skelton's photo and are looking for anyone who may have seen the boys or the Skeltons' blue Dodge Caravan between Nov. 25 and Nov. 26. Police have seized the van, but were trying to determine where Skelton may have taken them before he attempted suicide.
Click here for more on this story from MyFoxDetroit.com
The Associated Press contributed to this report