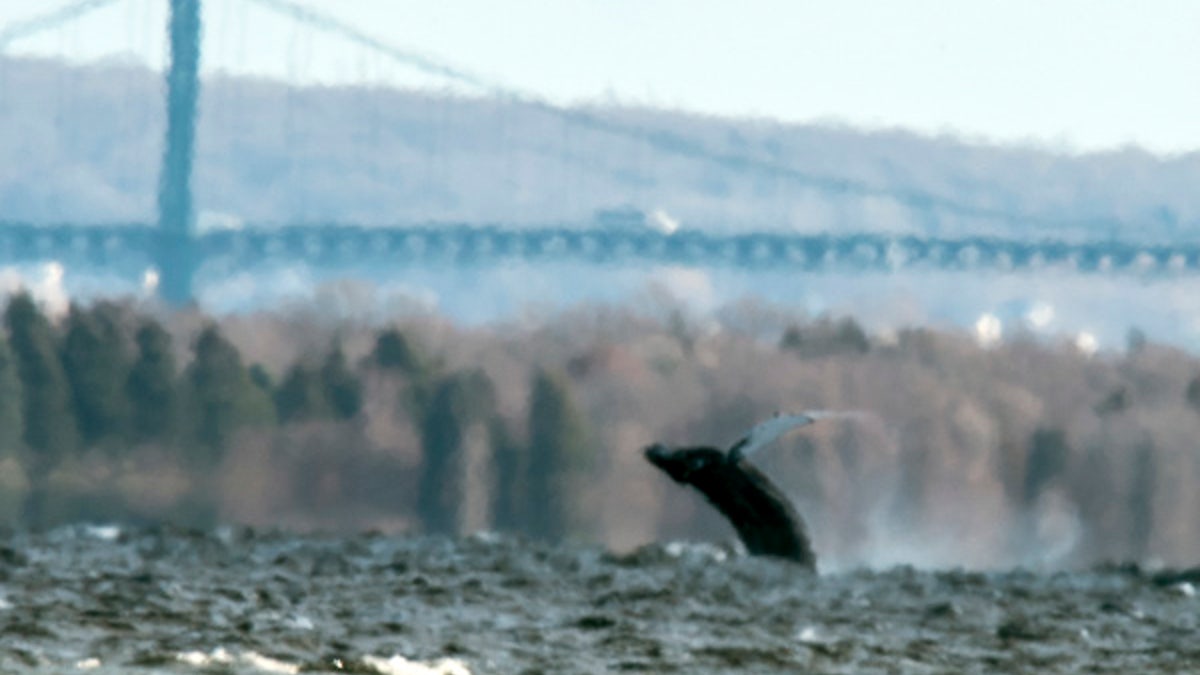 NORTH KINGSTOWN, R.I. – A 50-foot humpback whale made an uncommon trip on Monday deep into Rhode Island's Narragansett Bay, where it was spotted breaching and playing for about 45 minutes.
North Kingstown Harbormaster Ed Hughes was making the rounds at a marina at Allen Harbor north of Quonset Point on Monday morning during windy conditions when he spotted what he thought was a boat out on the water.
"Then I looked again, and it was about a 50-foot whale breaching out of the water. This is not a place where you normally see a 50-foot whale," he said. "Not here."
Hughes grabbed his camera and snapped a few photos of the whale breaching out of the water. The Mount Hope Bridge and sparsely inhabited Prudence Island can be seen behind it. Without the photos, he said, no one would believe he saw what he did.
At first, he thought the animal was caught in netting, but as he watched it splash its tail and fins into the water, he realized it was playing.
"It was just having a great time," he said. "It was an amazing thing."
Hughes, 64, has spent his life on the water. Before he was harbormaster, he was a charter boat captain who traveled all over the world. He has seen humpback whales in the ocean, and he's seen his share of interesting animals in the bay, he said.
"We've seen dolphin. Last year we saw a beluga whale, which was unique. But a 50-foot whale?" he said.
Humpback whales are not common inside the bay, although they are not unheard of, Department of Environmental Management spokeswoman Rose Jones said.
Hughes called the department, which sent officers to check on the whale. It was in good condition, Jones said, and last seen headed back toward the ocean.