Historic WWII PT boat heads home through streets of New Orleans
A historic World War II boat that survived dozens of operations -- and a few near-misses -- on the other side of the Atlantic is finally heading home to the waters where its journey began more than 70 years ago.
PT-305, fresh off a multi-year restoration project at the National World War II Museum in New Orleans, is traveling atop a barge set to reach the Industrial Canal near Louisiana's Lake Pontchartrain by midday Tuesday.
"This is a big deal for all of us, but especially for the men and women for the last ten years who put blood, sweat and tears into the restorations," Stephen Watson, museum executive vice president and COO, told FoxNews.com Monday.
The battle-hardened boat, nicknamed the U.S.S. Sudden Jerk, operated in the Mediterranean along the coasts of southern France and Northern Italy. PT-305 conducted more than 77 offensive patrols and operations, fought in 11 separate actions and sank three German ships during its 14-month deployment, according to the museum.
Following WWII, PT-305 took on a civilian role as a tour boat in New York Harbor, a fishing charter and an oyster boat, while falling into disrepair before the New Orleans museum scooped it up in 2007.
From there, a volunteer crew worked more than 100,000 hours on the project at the museum's restoration pavilion to get PT-305 running again.
WWII VETERANS AIM TO RELIVE HISTORY AS PT BOAT'S RESTORATION NEARLY COMPLETE
On Friday afternoon, the boat was moved outside the facility where volunteers, according to Watson, gathered for some quiet time before traffic lights and public signage was removed to make way for its 1-mile trek to the Mississippi River.
The next day, the boat, resting on a cradle, was lifted up onto a self-propelled modular transporter and was headed on its way.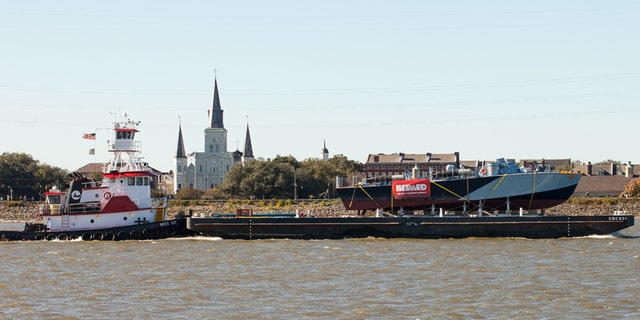 "It was just a remarkable thing to see. They made it look so easy," Watson said of the crew who walked alongside the vehicle and PT-305 as it slowly turned corners and moved through the streets.
Working in coordination with the Port of New Orleans, PT-305 arrived Saturday when no cruise ships were docked. It was hoisted onto a barge, which traveled down river, and is now heading back in the other direction through canals toward Lake Pontchartrain.
The boat is scheduled to be placed in the lake on December 10. But until then, last minute adjustments will be made and bits and pieces of the boat that were removed in preparation for the move will be re-attached at a repair facility in the Industrial Canal, Watson told FoxNews.com.
WORLD WAR II MYSTERY: ARE 'MISSING' SAILORS ACTUALLY IN NEW YORK CEMETERY?
The museum also is hard at work coordinating the training of the ship's 5-person part-time crews, containing a captain, a mechanic and three seamen – some of which are volunteers who worked on the restoration.
"We have to have a deep bench of people we can rely on," Watson said, noting that the museum is working closely with the Coast Guard to make sure the vessel can operate safely.
When not sailing the waters of Lake Pontchartrain, PT-305 will be permanently housed in a facility being constructed as part of a redevelopment of the lake's shores post-Hurricane Katrina.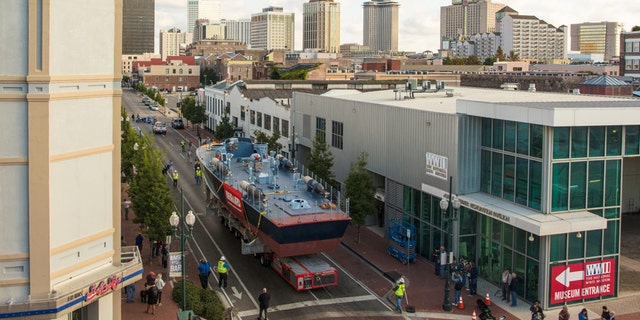 "The restoration of PT-305, like all museum restoration projects, is aimed at making history accessible to today's audiences in as detailed and authentic a way possible," Watson told FoxNews.com during an interview in March.
Those looking to get a 90-minute ride on the boat will be able to do so starting April 1, 2017. Tickets already being sold on the museum's website cost $350, with a $45 discount for members, seniors, children or veterans.
Deck tours that last 45 minutes also are available for $12 to $15.