Hearing to decide whether Navy football players will be charged with sex assault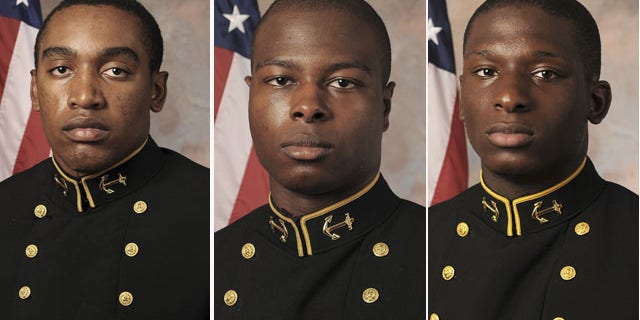 NEWYou can now listen to Fox News articles!
Attorneys argued for hours behind closed doors about what evidence should be admissible on the first day of a hearing Tuesday for three U.S. Naval Academy students charged with sexual assault.
The hearing at the Washington Navy Yard is being held to determine whether the midshipmen will face a court-martial.
Midshipman Josh Tate, Eric Graham and Tra'ves Bush are charged with sexually assaulting a female midshipman in 2012 at an off-campus house in Annapolis, Md.
Tate, of Nashville, Tenn.; Graham, of Eight Mile, Ala.; and Bush, of Johnston, S.C., are attending the hearing, with each sitting at a separate table with his own legal team.
Bush has been charged with aggravated sexual assault and making two false statements. Graham is charged with abusive sexual contact and making two false statements. Tate is charged with aggravated sexual assault and making three false statements.
The three students were on the academy's football team. None of the students has publicly responded to the allegations.
The alleged victim appeared at the hearing Tuesday, but her lawyer declined to say what was discussed in the closed-door proceedings. The woman is expected to testify at an open hearing early Wednesday.
The hearing is expected to last at least until Thursday.