Hawaii's Kim vows to rebuild from volcano with help of FEMA, as scientists say the worst is yet to come
PAHOA, Hawaii – Hawaii County Mayor Harry Kim wanted his piece of the pie -- a place where he could call home, sit by the water and watch the sun set. In 1971, the former Army medic borrowed $5,000 and bought a house in a rural neighborhood on the Big Island called Vacationland.
"When I bought it, it was a lousy lot but it was all I could afford," Kim said late Tuesday night.
Despite the flaws, he said emotionally, he loved it.
On Monday, it had burned to the ground.
Like hundreds of others on the Big Island of Hawaii, Kim's home has been devoured by the lava flow from the Kilauea volcano eruption in the past month.
"Harry had a premonition this was going to happen," Janet Snyder, a spokeswoman for the Hawaii County Civil Defense, said. "Vacationland is almost totally destroyed."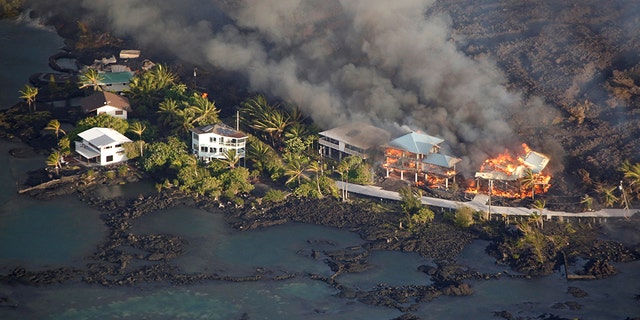 Lava entering the water at the Vacationland tide-pools has taken over most of the subdivision. And that's just the beginning.
KILAUEA LAVA DESTROYS HUNDREDS OF HOMES AS EXPLOSION 
Damage has escalated in recent days and thousands have been forced to flee – the lucky ones get to stay with friends and family but far too many others have no other option than popping up tents in muddy parking lots or cramming into packed shelters as life as they know it changes forever.
"I don't know what to do now," a shell-shocked Doloryn Purfano said over and over again recently to volunteers at a community-run donation center in Pahoa.
Purfano and her neighbors have been living in an apocalyptic horror after Kilauea ripped through their homes near Leilani Estates.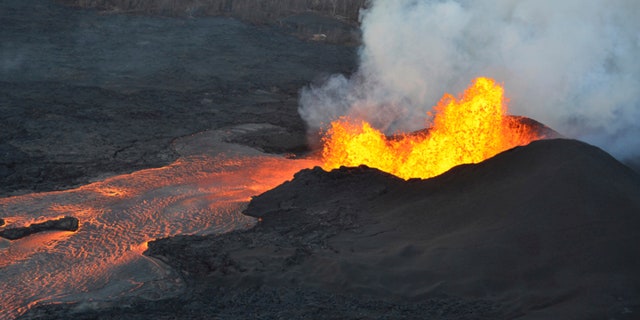 Though the full extent of the destruction is hard to tell, Steve Brantley, the deputy scientist-in-charge at the U.S. Geological Survey's Hawaiian Volcano Observatory, told residents late Tuesday at a community meeting. He also said the worst may still be ahead.
On May 3, Kilauea began shooting ash plumes 30,000 feet into the air. Thick waves of lava seeped from fissures in the ground, destroying homes, choking off escape routes and knocking out power before creeping its way toward the ocean. As it hit the blue waters of the Pacific, it created a dangerous steam laced with hydrochloric acid and fine glass.
At least seven people have been hurt, including three government workers, Hawaii County officials said Wednesday.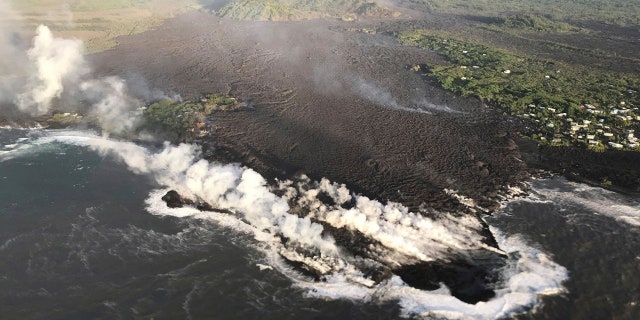 Thick "vog" – volcanic smog created by vapor, sulfur dioxide gas and carbon dioxide – blanketed a 2,400-acre zone, and last week, scientists at the U.S. Geological Survey warned of volcanic glass called "Pele's hair" falling from the sky.
Brantley believes there won't be any change in the vigor of the eruption any time soon.
HAWAII VOLCANO ERUPTION: HOW MANY PEOPLE ARE KILLED BY VOLCANOES?
He added, "It's likely there would be changes both at the summit and maybe more dramatic changes and also continued eruption here in the lower east rift zone."
Late Wednesday afternoon, an ash eruption at the summit of Kilauea sent a plume about 10,000 feet into the air, the Honoluu Star-Advertiser reported.
As man continues to chase science, Hawaii's governor and members of FEMA are expected to be on the Big Island on Thursday to address the growing concerns of displaced residents, Kim said.
"Prior to talking to the governor, I talked to the head of FEMA about the situation you are in and we have to bring some glimmer of light out there in this very, very sad time," Kim told residents.
Kim says there is a lengthy bureaucratic process that he hopes can be streamlined, including "proclamations for eligibility for certain kinds of programs."
"When the governor was successful in getting the presidential … the eruption just started. So there was nothing we could submit to say we qualify for this or that because we didn't qualify for anything because you have to have certain minimum number of homes but we've surpassed that now and we will go forward," he added.
Kim told community members that he had the full "commitment of FEMA the commitment of the governor that we will use every single avenue of every single thing we can get our hands on" to quickly develop housing, a community and shelter.
Fox News' Jeff Paul contributed to this report.