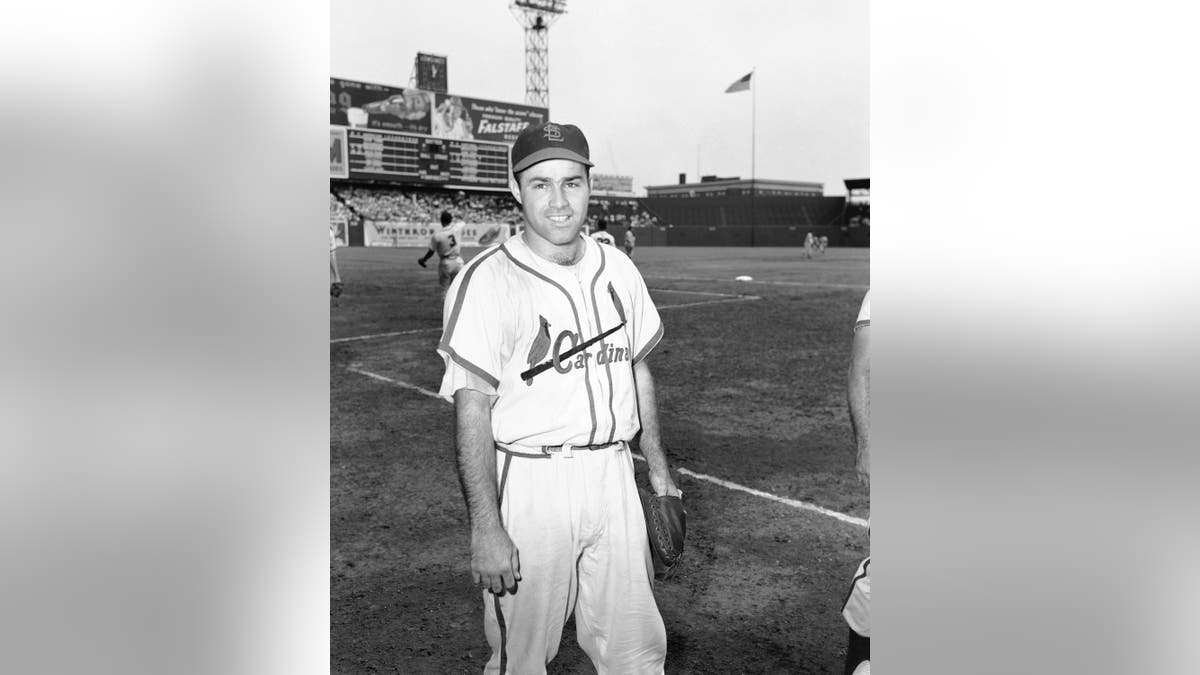 Joe Garagiola, a Major League Baseball legend who successfully moved from the field to the broadcast booth, has died at the age of 90, the Arizona Diamondbacks announced Wednesday. The cause of his death was unclear.
Garagiola entertained audiences for 58 years with a sharp sense of humor and a seemingly endless trove of stories. Popular with those who followed sports and those who didn't, his personality transcended games and landed him a pair of stints on the "Today" show, a slot as a guest host in Carson's seat on "The Tonight Show," spots as a game show host and almost a decade on Westminster dog show telecasts.
His longtime friend, Yogi Berra, died last year.
A 20-year-old rookie with the World Series champion St. Louis Cardinals in 1946 — he had more hits and RBIs in the seven-game matchup against Boston than Ted Williams — Garagiola spent nine seasons in the majors as a catcher. He was a career .257 hitter, then really became a star once he stopped playing.
Garagiola's first broadcast job was alongside the famed Harry Caray with the Cardinals. He later with Curt Gowdy and Vin Scully on NBC broadcasts, mixing in keen insights gleaned from his playing days along with funny stories he picked up along the way.
In 1991, he won the Ford C. Frick Award for baseball broadcasting excellence that earned him a permanent place in the Hall of Fame. He served as a part-time commentator for the Diamondbacks after his son, Joe Jr., was hired as the team's general manager.
During a retirement ceremony in 2013, Garagiola offered a sample of the tales that made him a part of the game's soundtrack for so long.
Garagiola recalled a pitcher "who will remain nameless" who threw only a fastball. But when Garagiola put down the sign for the fastball, the pitcher kept shaking it off. Finally, an exasperated Garagiola went out to the mound.
"I go out there and said, 'What do you want to throw?'" Garagiola recalled. "He said a slider. I said, 'You don't throw a slider.' He said, 'That's why I'll get him out, he won't be lookin' for it.'"
He remembered a time when Dusty Rhodes, known for his clutch hitting, came to bat. The fidgety pitcher, Cliff Stein, was concerned about how to work. "Dusty," Garagiola said, "was known to take a drink now and again."
"I said I don't care what you are going to throw," Garagiola said, "but don't hit him in the back pocket or we'll have Jack Daniels all over home plate."
For nine years, Garagiola worked on the telecasts of the Westminster dog show at Madison Square Garden in New York, taking an everyman's approach to the entries. A proud owner of Yorkshire terriers, Garagiola was parodied by Fred Willard on the mockumentary "Best in Show," an over-the-top portrayal that rankled the veteran announcer.
"Some people thought Joe didn't know about dogs, but he really did," longtime Westminster TV host David Frei said. "Nine times out of 10, he already knew the answer to the question he was asking me. He was just putting it in my wheelhouse."
"He was a real pro, he taught me so much about the business. He was a perfect partner," Frei said. "And he loved dogs."
Garagiola said his fondest memory was the 2001 season when the Diamondbacks, with his son, Joe Garagiola Jr., as the team's general manager, beat the New York Yankees in the World Series.
"Baseball, it hasn't changed that much," Garagiola said. "You still have to hit the ball and you still have to catch it. Good players will win and bad players will lose. Winners win and losers make excuses. It's as simple as that."
The Associated Press contributed to this report.