Ground Zero Controversy Fueled Attacks on Texas Mosque, Islamic Center President Says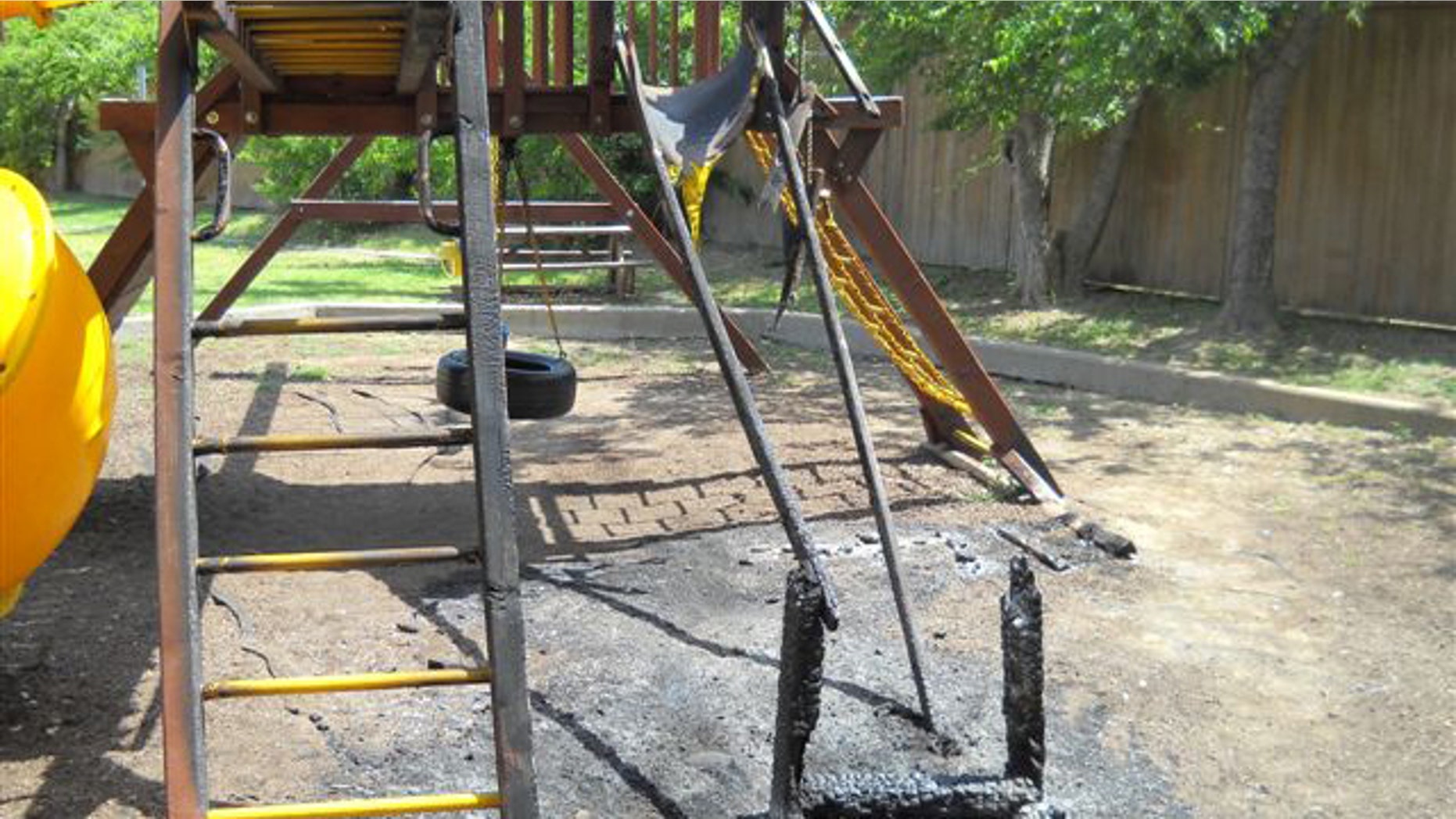 The president of an Islamic Center in Texas says backlash against the proposed mosque at Ground Zero has made its way over to the Lone Star State and is manifesting itself in acts of hatred against his congregation.
Jamal Qaddura, president of the Dar El-Eman Islamic Center in Arlington, says it started with a disturbing act of vandalism.
"On a Friday, early morning, somebody came and sprayed extremely obscene graffiti in the parking lot. It's a huge graffiti drawing of Uncle Sam having sex with God, with Allah," Qaddura told FoxNews.com.
That same weekend, Qaddura said, somebody tried to burn down the mosque by cutting old gas lines and, when they were unsuccessful, went after the playground instead.
"They cut them trying to ignite a fire, and nothing happened because we don't have gas in the building. We have cut off the gas, so instead they set fire to the playground, which is surrounded by trees. And it's a miracle that only the playground burned and not the trees, otherwise it would have been a huge disaster -- not just for the mosque, but for the surrounding area, all the neighborhoods and apartment complexes surrounding this mosque," Qaddura said.
Arlington police and fire departments as well as the FBI launched investigations into the incident. But Qaddura said that didn't stop a man from sneaking onto the property again days later.
"He came in around the same time, after midnight, and there were four guys there in the basketball court in the back … and when they saw each other, he took off and stopped by the entrance, almost 1,000 to 1,500 feet away. And he started cussing them and calling them racial slurs," he said. "They keep trying. A lot of people are passing by and calling names. It's just something very despicable."
The FBI and Arlington Police Department confirmed that they are investigating a July 23 graffiti incident and a July 25 playground fire at the mosque.
"We've not determined yet if there's any sort of hate crime element to it. And if there is, then that's something we would give to the district attorney's office as evidence so they can consider whether or not to enhance the charge if that case were ever to go to trial," Tiara Richard, spokeswoman for the Arlington Police Department, told FoxNews.com.
Special Agent Mark White, media coordinator in the FBI's Dallas office, said the bureau couldn't discuss its investigation other than to say it's ongoing.
"We're not commenting on what may be behind it because we're trying to find out who the person responsible is," White told FoxNews.com.
Qaddura says it's obvious the crimes were fueled by hate and, more specifically, by backlash against the proposal to build an Islamic center at Ground Zero.
"This started after they started this controversy about the mosque in New York. Not just us, by the way. This is happening to a majority of the mosques in many, many states. These people, they want their First Amendment and their freedom of speech at the expense of the Muslims' First Amendment and their freedom to worship," Qaddura says. "We should respect as Americans each other's right for religious freedom."
But with the Muslim holiday of Ramadan beginning Aug 11, Qaddura says, both Muslims and law enforcement in Arlington will be on high alert.
"We met with the police just last Thursday, all the mosques in the area and the Arlington police command, and they are taking very, very vigorous measures to protect the mosques during Ramadan," Qaddura said.
The Arlington Police Department says it is stepping up patrols to all area mosques, and that one of the most important pieces to preventing future acts of vandalism against the mosques is to find the person or people responsible for the damage that has already occurred.
"At this point we're just trying to determine who did this and we haven't reached the point where we can say this individual or these individuals committed this act or these acts together," Richard said. "So again we're still investigating, still gathering information trying to see who committed these acts."