Gen. Jack Keane, former vice chief of staff of the U.S. Army, called the United States' 16-year-long involvement in Afghanistan a "disgrace" and said some 10,000 to 20,000 additional troops were needed to win the war.
Keane spoke with Fox News on Friday as reports surfaced the Pentagon will send roughly 4,000 additional American forces to fight a reinvigorated Taliban insurgency in Afghanistan.
Defense Secretary Jim Mattis has not made an announcement on increasing troop levels in Afghanistan, but a Trump administration official told the Associated Press such an announcement could come as early as next week.
Keane said the 4,000 figure is "only speculation at this point" and not enough to defeat the Taliban and boost the Afghan Army's military might.
"There's no doubt the 4,000 will be helpful," he said. "But the real question is: Will it change the momentum of the war to our favor? My judgment is it's likely not to."
The administration official told the AP that the bulk of the additional troops will train and advise Afghan forces, while a smaller number would assist in counterterrorism operations against the Taliban and the Islamic State.
The Pentagon, meanwhile, told Fox News early Friday that no final determination has been made about sending additional troops.
"No decisions have been made," Pentagon spokesman Jeff Davis said.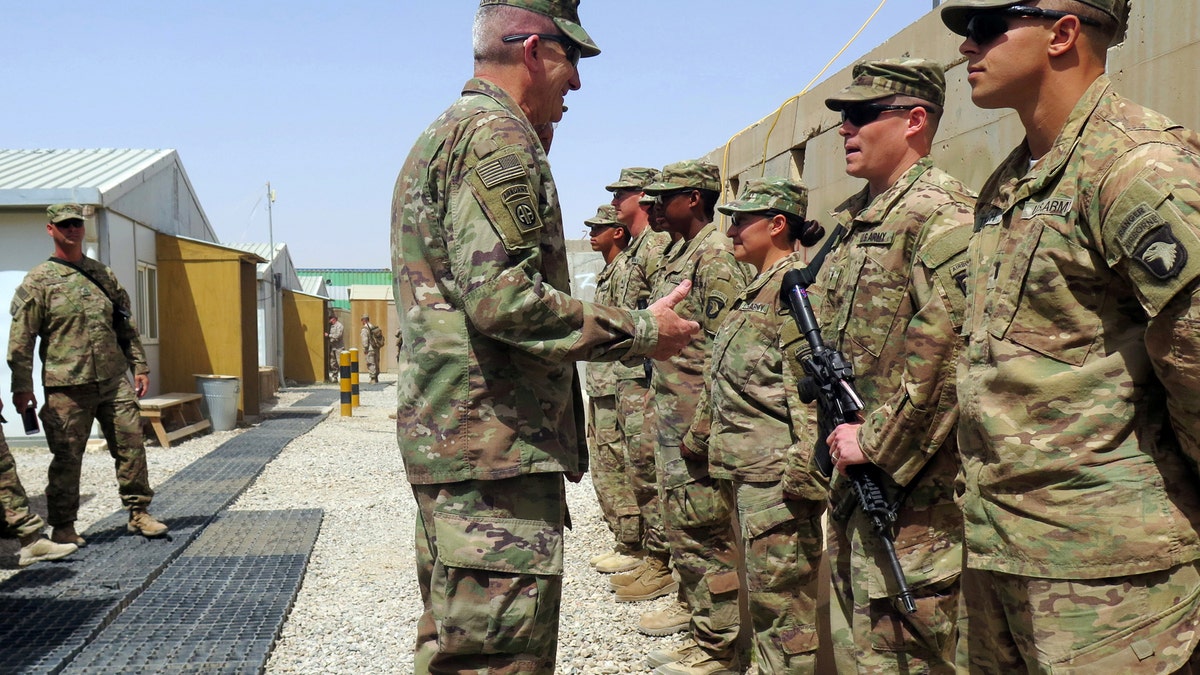 If a few thousands troops are sent, they will be used in the same way the U.S. military is fighting ISIS in Iraq and Syria, officials told Fox News.
Obama had set a cap a year ago of 8,400 troops in Afghanistan after slowing the pace of what he hoped would be a U.S. withdrawal.
Keane, a retired four-star general who left active duty in 2003, placed blame on the previous administration for what he called a failure to change the momentum in the war.
"It's 16 years we've been involved in this war and it's an absolute disgrace that we have not ended this war before, favorable to ourselves," he said.
He said Obama never made the commitment that was necessary to turn the war around and that's why "we are where we are."
"When we took the 100,000 plus troops out of Afghanistan – just left 8,000 – we took all the support that the Afghan Army had," including "attack helicopters and anti-IED intelligence, communications and logistics," said Keane. "We have to put that back if they're going to be effective."
Mattis told the Senate Armed Services Committee this week that the U.S. and its allies "are not winning" in Afghanistan.
During tough questioning from Sen. John McCain, the committee chairman, Mattis said, "We are not winning in Afghanistan right now" and promised "we will correct this as soon as possible."
"We want a strategy, and I don't think that's a hell of a lot to ask," McCain said.
Keane also stressed it was critical to destroy Taliban safe havens in Pakistan, where he said the Pakistani military provides the network with intelligence on U.S. operations in Afghanistan.
"The Pakistani military is assisting them. That has to stop," he said. "Those sanctuaries have to go away and the United States has to insist on it or the war will just be protracted."
Fox News' Lucas Tomlinson and the Associated Press contributed to this report.