FOX NEWS FIRST: Trump to unveil national security strategy; Russia, tax reform, shutdown on Congress's agenda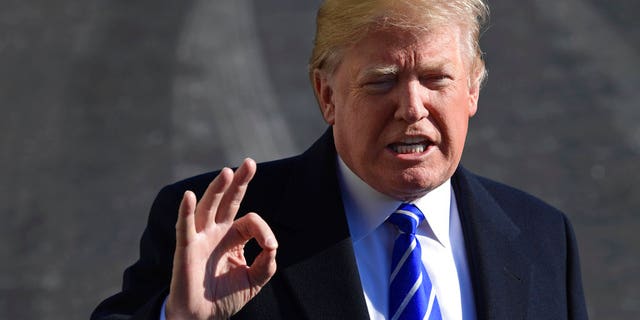 Welcome to Fox News First. Not signed up yet? Click here.
Developing now, Monday, Dec. 18, 2017:
President Trump to outline his national security strategy in speech this afternoon
A pivotal week is ahead for Congress where it will face final votes on tax reform, race to avoid a government shutdown after Friday and hear testimony from two key figures in the Trump-Russia probe
The Obama administration threw roadblocks at anti-Hezbollah task force to help secure Iran nuke deal, report says
Power has been fully restored to the nation's busiest airport after a complete outage grounded more than 1,00 flights
NBC quiet on whether MSNBC's Chris Matthews could face more sexual harassment accusations after it was revealed an accuser had been paid after filing a complaint almost 20 years ago
THE LEAD STORY: President Trump will outline a national security strategy that focuses on greater border security, better trade deals and combating jihadist terrorism and will not emphasize climate change ... According to senior administration officials, President Trump's strategy will focus on four "pillars": Protecting the homeland; promoting American prosperity; preserving peace through strength; and advancing American influence abroad.
MAKE-OR-BREAK WEEK FOR CONGRESS: Congress is slated for a busy week that includes expected final votes in both chambers on its sweeping tax-reform bill, testimony from two key figures in the Trump Russia probe and a perilous vote to keep the government from shutting down after Friday ... Treasury Secretary Steven Mnuchin told "Fox News Sunday" he cannot rule out a possible government shutdown later this week if Congress deadlocks on another temporary spending bill, but thinks that's unlikely. shuttering the federal government would be a political nightmare for both parties, especially ahead of next year's congressional midterm elections. And members of Congress have avoided a shutdown since 2013, when the government came to a halt over ObamaCare funding.
On tax reform, the GOP-controlled Congress last week agreed on a final plan that would reduce the corporate tax rate from 35 percent to 21 percent while adding across-the-board cuts to individual taxpayers -- adding an estimated $1.46 trillion to the deficit over a decade. The House is expected to vote Tuesday and pass the measure without problems. The subsequent Senate vote is less certain, considering Republicans need 51 votes with just a 52-48 majority. Concern about Sen. John McCain's has complicated the vote. McCain has returned home to Arizona after suffering side effects from brain cancer treatment. President Trump said the ailing veteran senator could return to Capitol Hill "if we need his vote."
On Russia, the Senate Intelligence Committee is expected to hear closed-door testimony from two key figures in the Russia investigation. Today, Bruce Ohr, the former associate deputy attorney general who was demoted at the Justice Department following revelations about undisclosed meetings he had with officials from Fusion GPS, will testify. Fusion GPS is the firm behind the infamous - and discredited - dossier containing salacious allegations about then-candidate Donald Trump. Ohr's wife, Nellie, worked at Fusion GPS during the summer and fall of 2016.
On Tuesday, Deputy FBI Director Andrew McCabe is set to appear before the House Intelligence Committee behind closed doors and face questions about Peter Strzok's role in the Hillary Clinton email investigation. Strzok, a former deputy to the assistant director at the FBI, was removed from Special Counsel Robert Mueller's team investigating Russia collusion after Mueller learned Strzok had exchanged anti-Trump texts with a colleague who was also his mistress.
BOMBSHELL REPORT: The Obama administration gave a free pass to Hezbollah's drug-trafficking and money-laundering operations — some of which were unfolding inside the U.S. — to help ensure the Iran nuclear deal would stay on track, according to a new report ... An elaborate campaign led by the Drug Enforcement Administration, known as Project Cassandra, targeted the Lebanese militant group's criminal activities, Politico reported on Sunday. But by tossing a string of roadblocks holding back the project, Obama administration officials helped allow the 35-year-old anti-Israel criminal enterprise to evolve into a major global security threat bankrolling terrorist and military operations, the report added.
WHEELS BACK UP AFTER STANDSTILL: Power has been fully restored at the Hartsfield-Jackson Atlanta International Airport after a complete power outage grounded flights Sunday afternoon, causing a holiday travel nightmare for fliers across the country just over a week before Christmas ... Kasim Reed, the city's mayor, announced the update on Twitter after the power outage forced the Federal Aviation Administration to suspend outgoing flights and implement a "ground stop" for incoming flights. The power outage was caused by a fire in an underground electrical facility. Delta, with its biggest hub operation in Atlanta, was hardest hit. By evening, Delta had already cancelled almost 900 Sunday flights and another 300 scheduled for today, nearly all of them in Atlanta, according to tracking service FlightAware.com.
NBC MUM ON POSSIBLY MORE MATTHEWS ACCUSERS: NBC is remaining quiet on whether other women have accused Chris Matthews inappropriate behavior after it was revealed over the weekend that the network paid money to a female staffer who said the MSNBC host had sexually harassed her... The Daily Caller first reported on the payment Saturday. The website reported that Matthews in 1999 paid $40,000 to the woman who worked on his show "Hardball with Chris Matthews" as an assistant producer.
AS SEEN ON FOX NEWS WEEKEND
'I'M GOING TO BE A DOUG JONES DEMOCRAT': "It doesn't matter what the issue is. [There's] always opportunity to find common ground. I have just resisted trying to put labels on myself."" – Ala. Senator-elect Doug Jones, on "Fox News Sunday," answering whether he will vote strictly along party lines. WATCH
A CALL TO UNITE AROUND TRUMP: "Rooting against a president is equivalent to getting on an airplane and hoping that the plane crashes." - Darrin Porcher, retired NYPD lieutenant, on "Fox & Friends Weekend," slamming movements like Antifa and "The Resistance" and reflecting on a poll reported by Pete Hegseth that showed only 65 percent of conservatives and 37 percent of liberals are "proud to be Americans." WATCH
ACROSS THE NATION
Report: US soldier fought to end after ambush in Niger
LeBron James sends message with black and white shoes, makes veiled slap at Trump.
332 Royal Caribbean passengers sickened with stomach virus.
MINDING YOUR BUSINESS
U.S. taxpayers rush to claim deductions under threat from tax bill.
Bitcoin hits bigger stage as exchange giant CME launches futures.
Hunter Harrison, CEO of railroad company CSX, dead at 73.
NEW IN FOX NEWS OPINION
Michael Goodwin: Sessions needs to halt the politicization of intelligence -- or hit the road.
Todd Starnes: Was the FBI weaponized to take down the Trump presidency?
Lutheran Bishop Robert Alan Rimbo: It is often in the darkest moments that faith is rediscovered.
HOLLYWOOD SQUARED
McGowan slams Streep for planning 'silent protest' at Golden Globes.
'Star Wars: The Last Jedi' opens with $220M, 2nd best weekend all-time.
Matt Damon slammed by ex Minnie Driver over comments about sexual misconduct.
DID YOU HEAR ABOUT THIS?
PHOTOS: Pope Francis celebrates his birthday with extra-long pizza.
A good Santa Claus can rake in $15,000 for the season.
Boy, 10, to get bionic hand in time for Christmas.
STAY TUNED
On Fox News:
Fox & Friends, 6 a.m. ET: House Majority Leader Kevin McCarthy weighs the GOP's chances at tax reform; interview with former White House communications director Anthony Scaramucci and Ivanka Trump.
Tucker Carlson Tonight, 8 p.m. ET: Cable News Exclusive: Tavis Smiley speaks out against PBS and the sexual misconduct allegations against him.
On Fox Business:
Tax reform and the Congress's race against time to avoid a government shutdown down will be among the hot topics with all the latest news and analysis from the guests below!
Mornings with Maria, 6 a.m. ET: Kevin Hassett, chairman of the Council of Economic Advisers for the White House; Gerald Storch, former Toys R Us CEO; and Sheila Bair, former FDIC chairman.
Risk & Reward, 5 p.m. ET: Grover Norquist, Americans for Tax Reform president, and Rep. Doug Collins.
Lou Dobbs Tonight, 7 p.m. ET: Kellyanne Conway
On Fox News Radio:
The Brian Kilmeade Show, 9 a.m. to Noon ET: Secretary of Agriculture Sonny Perdue and RNC Chair Ronna Romney McDaniel talk tax reform; and New York Post columnist Michael Goodwin on the state of Mueller's Russia probe
The Fox News Rundown podcast: Extremism is an on-going battle around the world with more anti-government militias growing each day. Bill Fulton is a former FBI confidential informant who provided detail to Fox News' Eric Shawn about taking down a man that's charged with conspiracy to murder federal officials. Plus, commentary by National Review Editor Rich Lowry.
Want the Fox News Rundown sent straight to your mobile device? Subscribe through Apple Podcasts, Google Play, and Stitcher.
#OnThisDay
1912: Fossil collector Charles Dawson reports to the Geological Society of London his discovery of supposed early human remains at a gravel pit in Piltdown. (More than four decades later, Piltdown Man was exposed as a hoax.)
1892: Peter Ilyich Tchaikovsky's ballet "The Nutcracker" publicly premieres in St. Petersburg, Russia.
1865: The 13th Amendment to the Constitution, abolishing slavery, is declared in effect by Secretary of State William H. Seward.
Thank you for joining us on Fox News First! Enjoy your day, and we'll see you in your inbox first thing Tuesday morning.