FOX NEWS FIRST: Questions surround Kavanaugh's accuser after investigation demands; New hope for nuke-free N. Korea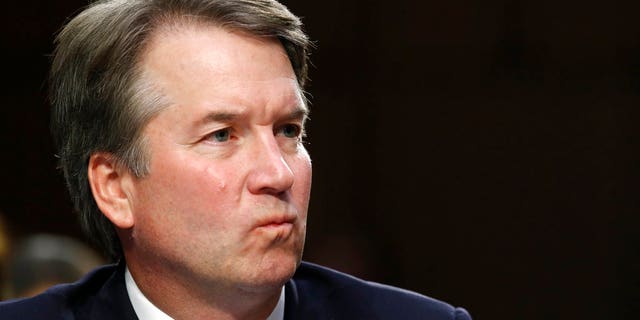 Welcome to FOX News First. Not signed up yet? Click here.
Developing now, Wednesday, Sept. 19, 2018
The woman accusing Supreme Court nominee Brett Kavanaugh of sexual assault when they were teens has demanded a full FBI investigation before she agrees to testify before Congress
The polygraph exam taken by Kavanaugh's accuser is facing new scrutiny since she came forward
In a TV interview, Hillary Clinton says President Trump will 'wholesale fire people' and become 'uncontrollable' after the midterm elections
After a second day of talks with South Korea, North Korean leader Kim Jong Un agreed to permanently dismantle the North's main nuclear complex if the United States takes the same steps; President Trump praised North Korea's announcement as 'exciting'
President Trump said in an interview that exposing the alleged corruption behind the FBI's Russia collusion investigation could be the 'crowning achievement' of his presidency 
FOX Business Network unveils a new primetime lineup, featuring Trish Regan and Charles Payne, that will premiere Oct. 15
THE LEAD STORY - WILL KAVANAUGH'S ACCUSER TESTIFY? - Christine Blasey Ford, the California professor claiming Supreme Court nominee Brett Kavanaugh sexually assaulted her more than 35 years ago, late Tuesday demanded a "full investigation" by the FBI before she agrees to any congressional hearing or "interrogation" into her accusations ... In response, Judiciary Committee Chairman Chuck Grassley, who said Ford is still invited to speak to the committee, countered that "nothing the FBI or any other investigator does would have any bearing on what Dr. Ford tells the committee, so there is no reason for any further delay." A federal law enforcement official told FOX News that Ford's insistence on an FBI investigation is "totally inappropriate." Republicans had invited Ford and Kavanaugh to testify next week after delaying a planned Judiciary Committee vote that had been scheduled for Thursday. Kavanaugh accepted the committee's invitation, but Ford stayed mum until Tuesday night.
LINGERING QUESTIONS ABOUT CHRISTINE FORD'S POLYGRAPH TEST: One day after Republican Sen. Lindsey Graham, R-S.C., raised concerns about the polygraph test taken by Brett Kavanaugh accuser Christine Ford, her attorney is refusing to comment on who paid for the examination or provide additional details on how it was conducted ... Experts contacted by FOX News confirmed that while polygraph examinations can be useful, they are ultimately fallible tools that "can be beaten." Without mentioning any particular instances, one former senior FBI agent said it could be beaten by sociopaths, psychopaths and committed liars lacking a "conscience." Ford provided the Washington Post the results of a polygraph examination conducted by a former FBI agent in August, which reportedly showed that she had been truthful in her allegations. According to the Post, Ford took the polygraph on the advice of her attorney, Debra Katz.
PROMISING STEP TOWARDS DENUCLEARIZATION IN NORTH KOREA: President Trump on Wednesday said it was "very exciting" that North Korean leader Kim Jong Un agreed to permanently dismantle his main nuclear complex and other key installments in his country … Kim made the announcement during a meeting with South Korean President moon Jae-in in Pyongyang. Moon said North Korea will dismantle its main nuclear complex if the United States takes corresponding measures. The summit was an effort to preserve nuclear diplomacy with Washington, which has expressed its desire for more substantial disarmament moves from the North. "Kim Jong Un has agreed to allow Nuclear inspections, subject to final negotiations, and to permanently dismantle a test site and launch pad in the presence of international experts," Trump tweeted late Tuesday evening. "In the meantime there will be no Rocket or Nuclear testing." Trump also said the remains of American war heroes will continue to be returned to the U.S., before ending his tweet by calling the news "very exciting!"
HILLARY CLINTON'S CRYSTAL BALL: Hillary Clinton on Tuesday predicted that President Trump will "wholesale fire people" following November's midterm elections ... "After this election, this president is going to wholesale fire people," Clinton said during an interview on MSNBC's "The Rachel Maddow Show." Predicting that Trump will "be even more uncontrollable and unaccountable" following the results, Clinton argued that the president will fire people who he believes are "undermining him" and "questioning him." In the wide-ranging interview, Clinton also discussed the recent controversy surrounding Supreme Court nominee Brett Kavanaugh.
TRUMP: RUSSIA PROBE 'BEYOND A WITCH HUNT': President Trump told the Hill on Tuesday that he'd ordered the declassification of a number of key documents connected with the FBI's investigation of alleged Russian collusion with members of his campaign team to show that the probe was "corrupt" and a "hoax" -- and that exposing it could go down as a highlight of his presidency ... "What we've done is a great service to the country, really," Trump said during an Oval Office interview. "In its own way, this might be the most important thing because this was corrupt."
Trump spoke to the Hill a day after he ordered three sets of documents declassified, including a secret surveillance application for former campaign adviser Carter Page. In the interview, Trump accused the FBI of using Page as "a foil in order to surveil a candidate for the presidency of the United States. "It's a hoax," Trump said, "beyond a witch hunt."
FBN'S NEW PRIMETIME LINEUP REVEALED: FOX Business Network will debut a new primetime lineup Oct. 15 ... FBN's Trish Regan will move to the 8 p.m. ET timeslot as the host of a new program, "Trish Regan Primetime," the network announced Tuesday. Charles Payne's program, "Making Money," will move from 6 p.m. ET and replace Regan's current program, "The Intelligence Report," in the 2 p.m. ET timeslot.
Here's the new FBN lineup (all times are Eastern):
2 p.m.: "Making Money with Charles Payne"
3 p.m.: "Countdown to the Closing Bell with Liz Claman"
4 p.m.: "After the Bell with Melissa Francis and Connell McShane"
5 p.m.: "Bulls & Bears with David Asman"
6 p.m.: "The Evening Edit with Elizabeth MacDonald"
7 p.m.: "Lou Dobbs Tonight"
8 p.m.: "Trish Regan Primetime"
9 p.m.: "Kennedy Live"
__________________________________________________________
Consider yourself an Influencer? Become a trusted adviser in our FOX News community and help guide our brand's future. Click here to find out how.
Members of FOX News Influencers:
Have the opportunity to be heard
Be part of a special network of peers
Get to influence new ideas and initiatives 
Receive updates on what we've learned and how your input has made impact 
Fill out our qualification survey and join us. Thank you for your continued support in our company's growth.
__________________________________________________________
AS SEEN ON FOX NEWS
THE WHITE HOUSE BELIEVES IN KAVANAUGH: "We stand with Brett Kavanaugh. ... He is someone [who is] beloved ... the Democrats, from day one, have made it very clear that they are not going to support Judge Kavanaugh." – Mercedes Schlapp, White House director of strategic communications, on "America's Newsroom," showing support for Supreme Court nominee Brett Kavanaugh in the face of sexual assault allegations. WATCH
THE KAVANAUGH-FORD CONTROVERSY: WHAT FOX NEWS HOSTS ARE SAYING
Tucker Carlson: The Kavanaugh vs. Ford debate is really about abortion.
Sean Hannity: Dems reject 'presumption of innocence' for political gain.
Laura Ingraham: I've known Kavanaugh for 25 years -- If this can happen to him, I tremble for our country.
TRENDING
Charles Krauthammer's final book, finished by his son, Daniel, is due in December.
'Sesame Street' confirms Bert and Ernie's sexual orientation after former writer's comments.
What are 'lawn mower parents'?
PHOTOS: Soap legend Susan Lucci stuns in swimsuit pics.
THE SWAMP
Trump will survey Florence damage during North Carolina visit Wednesday.
Obama Foundation deal with Chicago calls for $10 fee on 99-year lease: reports.
Pentagon's new cyber strategy lists Russia, China as biggest threats.
ACROSS THE NATION
What happened to $400G in GoFundMe cash? That will be made 'crystal clear,' New Jersey man says.
NFL Hall of Famers demand NFL health insurance, salaries.
Professor slammed after refusing to write letter of recommendation for student applying to study in Israel.
MINDING YOUR BUSINESS
Stock futures point higher as tariffs seen less damaging.
Tesla chief Elon Musk's comments spur criminal investigation: Report.
Bayer's Monsanto asks U.S. court to toss $289M Roundup verdict.
McDonald's workers strike over sexual harassment policies.
This startup is charging people $7,000 to freeze their stem cells.
Kennedy: Why young people are swayed by socialism.
Social Security checks could rise by most since 2012.
The world's 'ultra-wealthy' live in these countries.
FOX NEWS OPINION
John Stossel: The hard truth about 'price gouging' and disasters.
Antigone Davis: Suicide deeply affected my life and I didn't know how to help.
Jason Chaffetz: The Deep State is real and far worse than you can imagine.
HOLLYWOOD SQUARED
Surgeon seen on Bravo reality show, girlfriend allegedly drugged, sexually assaulted women.
Sally Field reveals she 'didn't speak' to Burt Reynolds 'for the last 30 years of his life.'
Reese Witherspoon's life mirrors her 2002 film 'Sweet Home Alabama.'
DID YOU HEAR ABOUT THIS?
Texas grandma shoots, kills massive gator linked to missing miniature horse.
Giant 'contracting' creature spotted on beach stuns family.
South Carolina churches to offer gluten-free Communion bread.
STAY TUNED
FOX Nation is coming! - Sign up now and find out about its exciting launch!
On Facebook:
Check out 'FOX News Update,' our new Facebook-exclusive news program!
On FOX News:
FOX & Friends, 6 a.m. ET: "Talking Points" with FOX Nation host Tomi Lahren. CBN host Jenna Browder sounds off about Emmy Awards host Michael Che trashing Christians. Astronaut Nick Hague previews his first spaceflight in October. Bristol Palin opens up about her new gig on MTV. "Million Dollar Listing" agent Ryan Serhant talks about his new book "Sell It Like Serhant."
Your World with Neil Cavuto, 4 p.m. ET: Special guests include: RNC Chairwoman Ronna McDaniel.
Special Report, 6 p.m. ET: Bret Baier has a sit-down discussion with Georgian Prime Minister Mamuka Bakhtadze.
The Ingraham Angle, 10 p.m. ET: Don't miss Laura Ingraham's exclusive interview with Secretary of State Mike Pompeo.
On FOX Business:
Mornings with Maria, 6 a.m. ET: Special guests include: Scott Dixon, IndyCar champion; Dan DeBono, candidate for 3rd Congressional District of New York; Stephen Auth, Federated Investors chief investment officer; Kevin Hassett, chairman of the White House Council of Economic Advisers.
Varney & Co., 9 a.m. ET: Curtis Ellis, former Trump campaign trade and jobs adviser; Fred Whitfield, Charlotte Hornets president and chief operating officer; Jason Whitlock, FOX Sports 1 "Speak For Yourself" host; Joe Casucci, founder and CEO of FJM Ferro Inc.
Cavuto: Coast to Coast, Noon ET: Sheila Bair, former FDIC chairwoman; Glenn Hubbard, former Economic Advisors Council chairman under President George W. Bush.
The Intelligence Report, 2 p.m. ET: U.S. Sen. John Kennedy, R-La; Herman Cain, chairman of America Fighting Back; Marc Lotter, former special assistant to President Trump; Jack McIntyre, portfolio manager for Brandywine Global.
Countdown to the Closing Bell, 3 p.m. ET: Erin Ennis, U.S.-China Business Council senior vice president.
On FOX News Radio:
The FOX News Rundown podcast: Long before he was nominated to become the next Supreme Court justice, Brett Kavanaugh was a part of former Independent Counsel Ken Starr's legal team when he was overseeing the investigation into former President Bill Clinton. Starr joins the podcast to weigh in on Judge Kavanaugh and his nomination. On Tuesday, workers at McDonald's in 10 U.S. cities temporarily went on strike, alleging sexual harassment and discrimination at work and demanding action from company executives. FOX News Radio's Jessica Rosenthal attended a protest in Los Angeles and spoke with protesters and the union organizers about the cause. Plus, commentary by FOX News contributor and for U.S. Rep. Jason Chaffetz.
Want the FOX News Rundown sent straight to your mobile device? Subscribe through Apple Podcasts, Google Play, and Stitcher.
The Brian Kilmeade Show, 9 a.m. ET: The Brett Kavanaugh saga and Trump's declassification of key FBI Russia investigation documents will be the main topics of discussion with special guests: Deroy Murdock; RNC Chairwoman Ronna McDaniel; RealClearPolitics' A.B. Stoddard; former Rep. Jason Chaffetz; Martha MacCallum. Former New York Giants head coach Tom Coughlin discusses the state of the NFL and his foundation and Amb. Alexander Vershbow on the latest nuclear negotiations with North Korea.
The Tom Shillue Show, 3 p.m. ET: Comedian Tom Cotter and Fox Business Network producer Jennifer Eckhart join Tom Shillue's nightly panel to discuss the "Sesame Street" 'controversy' surrounding Bert and Ernie and the latest news of the day!
#OnThisDay
2008: Baseball's new instant replay system produces its first reversal when the Tampa Bay Rays' Carlos Pena has a two-run double changed to a three-run homer during the fourth inning of a game against the Minnesota Twins.
1986: Federal health officials announce that the experimental drug AZT would be made available to thousands of AIDS patients.
1970: The "Mary Tyler Moore" show debuts on CBS.
FOX News First is compiled by FOX News' Bryan Robinson. Thank you for joining us! Enjoy your day! We'll see you in your inbox first thing Thursday morning.