FOX NEWS FIRST: Dems accused of trying to 'steal' election Florida; Tucker speaks out on Antifa targeting his home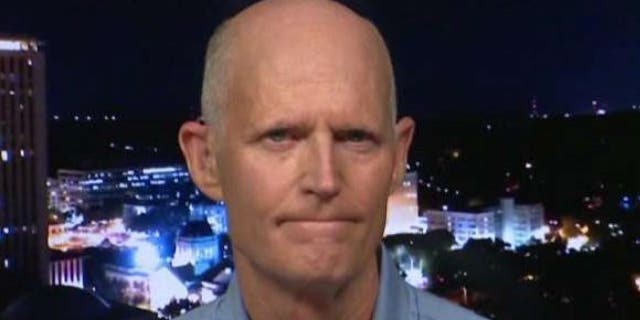 Welcome to FOX News First. Not signed up yet? Click here.

Developing now, Friday, Nov. 9, 2018
THE LEAD STORY - CHAOS IN FLORIDA - Accusing Democrats of conducting a coordinated effort to "steal" elections in a campaign of possibly "rampant fraud," Republican U.S. Senate candidate Rick Scott filed explosive lawsuits late Thursday against the top election officials in two heavily Democratic counties, as they continue to report new votes and three major races in the state appear headed for recounts ... In their lawsuit against Broward County, Scott and the National Republican Senatorial Committee (NRSC) allege that officials there are hiding critical information about the number of votes cast and counted. And in a parallel suit against Palm Beach County, Scott and the NRSC charge that the election supervisor there illegally used her own judgment to determine voter intent when reviewing damaged absentee ballots, while refusing to allow witnesses to monitor the process.
Scott is running against longtime incumbent Democratic Sen. Bill Nelson. "Late Tuesday night, our win was projected to be around 57,000 votes," Scott told reporters. "By Wednesday morning that lead dropped to 38,000. By Wednesday evening, it was around 30,000. This morning, it was around 21,000. Now, it is 15,000." A mandatory recount now appears imminent not only in Scott's race, but also in the agricultural commissioner race and Florida's high-profile gubernatorial contest between Democrat Andrew Gillum and Republican Ron DeSantis, based on new vote totals -- even though Gillum has already conceded. Florida law requires a machine recount when candidates are within 0.50 percentage points of each other. - Reported by Gregg Re (@gregg_re on Twitter)
SEARCH FOR ANSWERS IN CALIFORNIA BAR MASSACRE: Police in Ventura County, Calif., are looking for a motive behind a Marine veteran's shooting rampage at a crowded bar late Wednesday night that left 12 people dead ... Authorities believe Ian David Long, 28, eventually turned the gun on himself, but not before he terrorized a crowd filled with college students at Borderline Bar & Grill in Thousand Oaks. Long's body was found in an office near the entrance of the bar. Sheriff Geoff Dean, who is set to retire Friday, said Long may have suffered from post-traumatic stress disorder and was known to law enforcement officials due to several unspecified "contacts" stretching back multiple years.
Long served in the Marine Corps from August 2008 to March 2013, with a deployment in Afghanistan between November 2010 and June 2011, military records show. Dean said the last interaction between Long and authorities occurred in April, when police officers were called to Long's house after reports of a disturbance. When they arrived, officers found Long "irate and acting irrationally," leading to a crisis intervention team being summoned. The team, however, cleared Long and said they didn't think he required being taken into custody. - Reported by Katherine Lam (@bykatherinelam on Twitter) and Stephen Sorace
THE FIGHT TO 'PROTECT' THE RUSSIA INVESTIGATION: Eighteen U.S. state attorneys general signed a document Thursday calling for Acting Attorney General Matthew Whitaker to recuse himself from overseeing the Russia investigation, a role he assumed following his temporary appointment following the resignation of Jeff Sessions ... The document was released on Twitter by Massachusetts Attorney General Maura Healey, who tweeted that Whitaker must "recuse himself immediately." "Acting AG Whitaker's hostility to the Special Counsel's investigation disqualifies him from overseeing Robert Mueller," Healey tweeted. "Deputy Attorney General Rosenstein must be allowed to protect the Special Counsel and insulate the investigation from interference by the White House. #ProtectMueller"
In addition to Healey, the document was signed by 17 other attorneys generals -- from New York, Connecticut, Delaware, the District of Columbia, Hawaii, Illinois, Minnesota, New Jersey, California, North Carolina, Oregon, Vermont, Rhode Island, Washington state, Virginia, New Mexico and Maryland. As part of Whitaker's new role as the head official at the Justice Department, he will oversee the Russia probe and the agency's other federal investigations, including the New York prosecutors' look into the finances of President Trump and his former aides. Critics are alarmed because Whitaker previously argued in an op-ed that Special Counsel Robert Mueller's Russia investigation would be overreaching if it looked into Trump's finances and that its scope needed to be limited. - Reported by Elizabeth Zwirz
ASYLUM FIGHT BREWS: The Trump administration announced Thursday that migrants who attempt to cross the U.S.-Mexico border illegally will not be eligible to claim asylum under a new rule meant to crack down on "meritless" claims ... The rule, which prevents migrants from claiming asylum if they do not do so at an official border crossing, is the latest attempt by the White House to handle a surge in migration to the U.S. from the Central American countries of Guatemala, Honduras and El Salvador. President Trump is expected to formally enact the rule in a presidential proclamation Friday and will invoke the same powers he used to push through a version of the travel ban that was upheld by the Supreme Court, according to senior administration officials. - Reported by Samuel Chamberlain
• Feinstein urged Obama in 2014 to use 'broad power' to limit immigration
• Federal appeals court rules against Trump administration on DACA
TUCKER: I WILL NOT BE INTIMIDATED: FOX News host Tucker Carlson vowed he would not be "silenced" after left-wing Antifa members targeted his home, and he thanked well-wishers for their support ... On Wednesday evening, a self-described Antifa group posted videos of a mob outside the Washington, D.C., home of Carlson, chanting, "Tucker Carlson, we will fight. We know where you sleep at night." Carlson was on a pre-planned vacation Thursday night when he called into his own show to discuss how Antifa members had gathered outside his home and threatened his wife and family. "What's it like to find out that your wife is hiding in the pantry because people are threatening her? I mean, it's upsetting," Carlson told guest host Brian Kilmeade. "I've characterized the Antifa people and people like them as protesters, but they're not. I mean, they weren't protesting anything. … They weren't trying to change my mind. … They were threatening my family to get me to stop talking. And obviously, I'm not going to because it's my job."
The FOX News host and best-selling-author noted that he had received support from friends and political foes alike during the aftermath of the ordeal. "For every masked lunatic in front of my house, there have been … 100 people, some of whom I don't agree with politically, calling or sending text of support and kindness," Carlson said. "It's just a reminder of what a really nice country it is." Washington, D.C., police reportedly have launched an investigation into the anti-Carlson protests.

AS SEEN ON FOX NEWS
INCIVILITY IN THE PRESS BRIEFING ROOM - "You can disagree with the way he conducts himself and his behavior, but the idea that the White House put out a doctored video as a reason for Jim Acosta to have his pass revoked … in my view, this is really Kremlin-esque. Watch the video. With the audio, he's saying, 'Excuse me, ma'am.' He's not manhandling this person. It is a trumped-up, made-up reason to revoke his pass and it's absolutely wrong and it's outrageous." – A.B. Stoddard, associate editor of RealClear Politics, giving her taking on the White House revoking CNN White House correspondent Jim Acosta's press access.
JIM ACOSTA VS. THE WHITE HOUSE
Sarah Sanders accused of circulating 'doctored' video of Jim Acosta's interaction with White House intern.
WATCH: Chris Wallace: Acosta was disrespectful to his colleagues.
The White House suspends Acosta's press access after his heated exchange with President Trump.
TRENDING
Supreme Court Justice Ruth Bader Ginsburg fractures three ribs in fall.
The most-Googled Thanksgiving recipes by state.
Businessman, 69, seeks to legally identify as 20 years younger.
Imelda Marcos convicted of graft, court orders her arrest.
THE SWAMP
Federal judge blocks construction of Keystone XL pipeline.
Michelle Obama's new memoir takes Trump to task.
GOP voters win gerrymandering lawsuit forcing Maryland to draw new congressional map for 2020.
ACROSS THE NATION
Mississippi man fired after seen wearing shirt with Confederate flag, noose to vote: report.
Sorry, El Chapo: Federal judge says no hug ahead of drug trial.
World War II veteran, turning 100 soon, belts out national anthem before NHL game.
MINDING YOUR BUSINESS
China car sales down fourth straight month.
Disney posts strong profits with FOX deal now in focus.
Procter & Gamble unveils major restructure, simplifies business.
Uber, Google co-founder and others may have flying taxis available by the 2020s.
Harley-Davidson gives first look at new electric motorcycle.
The top five scams targeting veterans and how to protect against them.
Kennedy: Pelosi is not the Dems' answer.
Sears plans to close 40 more stores in 2019: report.
How to become an everyday millionaire.
Homeowners' credit scores recover fastest in these cities.
FOX NEWS OPINION
Marc Thiessen: The Kavanaugh debacle cost the Democrats the Senate.
The Wall Street Journal: Unlike Nixon or Reagan, Trump hasn't expanded his 2016 support.
Bill Bennett: The GOP lost the House – Here's how they can get it back (plus, my advice for Democrats).
HOLLYWOOD SQUARED
'America's Got Talent' alum loses gig on ZZ Top guitarist's tour after posing in MAGA hat, holding Chick-fil-A.
Snoop Dogg smokes marijuana near the White House, says 'F--- the President.'
Alyssa Milano won't speak at Women's March unless organizers condemn Louis Farrakhan.
DID YOU HEAR ABOUT THIS?
U.S. Army to get advanced camouflage protection system.
End of days? Telescope images reveal what happens when galaxies collide.
PHOTO: Florida man captures 'mammoth' 17-foot python, sets record.
STAY TUNED
FOX Nation is coming! - Sign up now and find out more about its exciting launch!
On Facebook:
Check out 'FOX News Update,' our Facebook-exclusive news program!
On FOX News:

FOX & Friends, 6 a.m. ET: Special guests will include: Ohio Governor-elect Mike DeWine; Tyrus and Britt McHenry preview the launch of FOX Nation

On FOX Business:
Mornings with Maria, 6 a.m. ET: Special guests include: Andrew McCarthy, FOX News contributor and National Review columnist; Christopher Plamp, Hire Heroes CEO; Deepak Chopra, alternative medicine advocate and author; Emily Nunez Cavness, Sword & Plough co-founder and CEO and Betsy Nunez, Sword & Plough co-founder and COO; U.S. Rep. Chuck Fleischmann, R-Tenn.; Martin Nolan, executive director of Julien's Auctions.
Varney & Co., 9 a.m. ET: Ken Paxton, Texas attorney general.
Cavuto: Coast to Coast, Noon ET: U.S. Sen. Tim Scott, R-S.C.
Making Money with Charles Payne, 2 p.m. ET: Ned Ryun, founder and CEO of American Majority; Madison Gesiotto, National Diversity Coalition for Trump adviser.
Countdown to the Closing Bell with Liz Claman, 3 p.m. ET: Richard Haass, president of the Council on Foreign Relations.
On FOX News Radio:
The FOX News Rundown podcast: This week, a meeting between Secretary of State Mike Pompeo and his North Korean counterpart was canceled. FOX News correspondent Rich Edson at the State Department and Gordon Chang, author of "Nuclear Showdown," discuss why denuclearization talks seem to be on hold. Matt Whitaker, Jeff Sessions' chief of staff, has been named acting attorney general. FOX News legal analyst Judge Andrew Napolitano explains why he believes Whitaker's appointment may not be legal. Plus, commentary by Chris Wallace, host of "FOX News Sunday."
Want the FOX News Rundown sent straight to your mobile device? Subscribe through Apple Podcasts, Google Play, and Stitcher.
The Brian Kilmeade Show, 9 a.m. ET: fallout from the midterms, Attorney General Jeff Sessions' resignation, and the lack of civility in politics will be the leading topics of debate with the following guests: Mark Penn, Geraldo Rivera, Gabe Lyons, Shannon Bream, and Carley Shimkus.
On FOX News Weekend:
Cavuto Live, Saturday, 10 a.m. ET: U.S. Ambassador to Germany Ric Grenell on President Trump's visit to France this weekend. Former White House press secretary Sean Spicer on Attorney General Jeff Sessions' resignation.
Modern Warriors: A Veterans Day Special, Sunday, 8 p.m. ET, hosted by Pete Hegseth.
#OnThisDay

1989: The fall of the Berlin Wall: Communist East Germany throws open its borders, allowing citizens to travel freely to the West; joyous Germans dance atop the Berlin Wall.
1961: The Beatles' future manager, Brian Epstein, first sees the group perform at the Cavern Club in Liverpool, England.
1620: The passengers and crew of the Mayflower spot Cape Cod.
FOX News First is compiled by FOX News' Bryan Robinson. Thank you for joining us! Enjoy your day and weekend! We'll see you in your inbox first thing Monday morning.