Jeff Flake announces plan to vote on special counsel protection legislation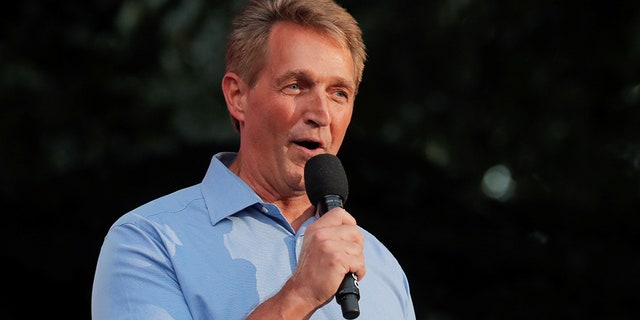 Arizona GOP Sen. Jeff Flake on Thursday announced his intention to "ask for unanimous consent" to vote on legislation that would "protect" Special Counsel Robert Mueller.
Flake, alongside Sen. Chris Coons, D-Del., will make the request next week when the Senate assembles, the Arizona lawmaker tweeted.
"When the Senate convenes next week, @ChrisCoons and I will ask for unanimous consent to bring S.2644, the Special Counsel Independence and Integrity Act, to a vote on the Senate floor," he tweeted. "After the firing of The AG, it is more important than ever to protect the Special Counsel."
The announcement comes after Jeff Sessions resigned from his post as attorney general on Wednesday at the request of President Trump. Sessions' resignation immediately prompted speculation about the future of Mueller's Russia investigation.
"At your request, I am submitting my resignation," Sessions wrote in the letter to the president.
Trump often criticized Sessions over his recusal from overseeing Mueller's investigation.
JEFF SESSIONS RESIGNS AS ATTORNEY GENERAL, AT TRUMP'S 'REQUEST'
Amid Sessions' resignation, Trump tweeted that Matthew G. Whitaker would fill the role of acting attorney general.
In reaction to Sessions' announcement, as well as the president's temporary replacement, top Democrats insisted that Whitaker also recuse himself from the investigation. In his new capacity, Whitaker, who can hold his post for approximately six months without Senate confirmation, is the head official at the Justice Department. That means, at least for now, that he oversees the Mueller probe and the agency's other federal investigations.
The Special Counsel Independence and Integrity Act, the bill mentioned by Flake, "amends the federal judicial code to codify certain Department of Justice (DOJ) regulations that govern the appointment, oversight, and removal of a special counsel," according to a summary from Congress.
Among the regulations included are ones "that authorize the Attorney General to appoint and select a special counsel," "sets up the qualifications, scope of jurisdiction, and authority of a special counsel," and "authorize the Attorney General to remove a special counsel for misconduct or other good cause."
TOP DEMS DEMAND WHITAKER RECUSAL SOUND ALARM AFTER SESSIONS' RESIGNATION: 'THIS IS A BREAK-THE-GLASS MOMENT'
The piece of legislation also gives "new statutory limitations and requirements" for removing a special counsel, the summary said.
The legislation mandates that the removal be carried out by the Attorney General "or, in certain circumstances, the most senior Senate-confirmed DOJ official," necessitates that written notice be given to the special counsel detailing the reasoning behind the removal and "allows a special counsel to challenge the removal in federal court."
The bill also mandates that the DOJ must inform Congress when a special counsel is either "appointed," "removed" or wraps up their probe.
Fox News' Alex Pappas, Jake Gibson and Gregg Re contributed to this report.