Sorry, El Chapo: Federal judge says no hug ahead of drug trial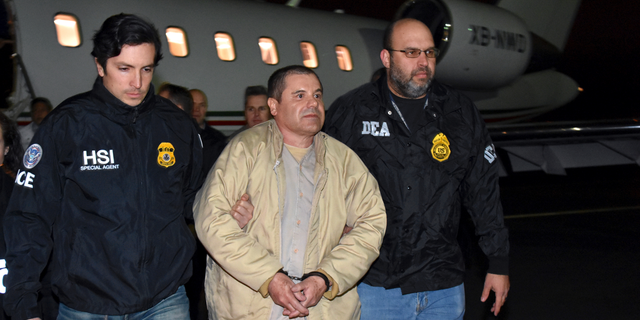 A New York federal judge says no hugging for notorious Mexican drug lord Joaquin "El Chapo" Guzman, who is set to appear in court next week to face charges that he oversaw a violent drug cartel.
Guzman's defense team requested that U.S. District Judge Brian Cogan allow their client to embrace his wife and engage in what they called a "humanitarian gesture" before opening statements on Tuesday.
"It can be a brief embrace in open court with the courtroom railing between them," attorney Mariel Colón Miró said, according to USA Today. Colón Miró says it's been almost two years without contact between the couple since Guzman entered solitary confinement.
Cogan, despite being sympathetic to the Guzmans' appeal, denied the request on Thursday, however, noting that other defendants who are considered high-security risks wouldn't be granted the favor. For El Chapo, there would be no exception.
Guzman has pleaded not guilty charges that he oversaw a Mexican drug cartel, known for violence and for breaking him out of jails.
A jury of seven women and five men will hear opening statements next week in a Brooklyn federal courthouse.
The Associated Press contributed to this report.