Florida man captures 'mammoth' 17-foot python, sets record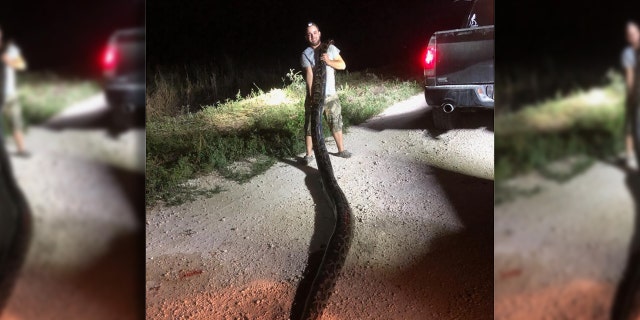 A man in West Palm Beach, Fla., on Monday, captured a monstrous 120-pound python, officially setting a record for the South Florida Water Management District's Python Elimination Program.
The serpent, a Burmese python, was captured by Homestead resident Kyle Penniston, the South Florida Water Management District (SFWMD) said in a Wednesday news release.
VIRGINIA WOMAN SNAPS STUNNING PHOTO OF VENOMOUS COTTONMOUTH SNAKE BARING ITS FANGS
The "mammoth" snake measured 17 feet, 5 inches, according to the SFWMD, which added the serpent was the "third caught as part of the program that measured more than 17 feet."
"This snake just showed me you really can do anything. I just caught this python alone, I was riding along the levee and saw this massive girl in the water. Jumped out and grabbed her by the head and realized how big she truly was," Penniston wrote in a Facebook post earlier this week.
The Florida man went on to describe additional details of the capture, stating the python "started wrapping me while I tried getting her up the levee." At one point, Penniston said, he lost his grip and "as soon as I knew it she had my hand in her mouth."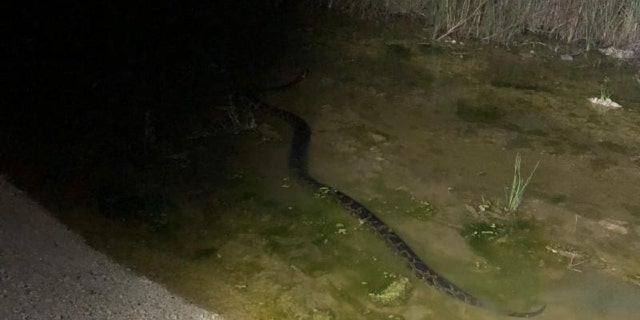 "I grabbed my pistol off my sideloaded one in the chamber and it jammed. I kept fighting till we were both dead of energy. I finally was able to get her up the levee and l euthanized her as it's required by our program," he added.
"With the record catch, SFWMD's python hunters have now eliminated 1,859 of the invasive snakes on District lands, stretching a combined length of more than two miles and collectively weighing more than 11 tons," the state agency said in a statement following the capture.
NEW CROCODILE SPECIES DISCOVERED BY RESEARCHERS
The program helps to eliminate the "invasive" species from the Everglades ecosystem, as Burmese pythons there have "decimated native populations of wildlife," the SFWMD said. Professional pythons hunters, as selected by program officials, are allowed to go on district-owned lands to hunt and then "humanely euthanize" the creatures.
"The more that can be eliminated, especially females and their eggs, the better chance future generations of native wildlife will have to thrive in the Everglades ecosystem that Floridians have invested billions of dollars to restore," the SFWMD said.